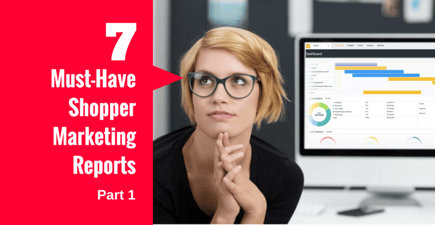 Shopper marketers serve many internal and external clients, each with unique needs and business questions. As a result, shopper marketing practitioners constantly chase the latest information, often creating custom one-off reports and presentations, re-packaging data and creating multiple document versions simply to keep up with basic status update requests.
Ignoring these requests is not an option because open communication and transparency fosters trust and results in greater cross-functional alignment. However, in practice, servicing these requests represents a huge time commitment (up to 50% of your team's time), and the quality of manually collected and "massaged" data is questionable. A "fat finger" error can corrupt an excel formula and render the report useless; a colleague collaborating on your presentation may unknowingly overwrite your latest changes, resulting in hours of rework.
Wise shopper marketing leaders must anticipate these requests and create a proactive, agile, and repeatable approach to responding to them, so their team's energy is preserved for important, strategic challenges and not wasted on manual reporting.
To help you with this task, we have summarized the most frequently requested reports that our shopper marketing clients generate. These are the basics, shopper marketers. If you don't have a handle on these reports and don't know how much time your team spends generating them, you may need to rethink if you have what it takes to be a shopper marketer.
Must Have Shopper Marketing Reports
For every report your shopper marketing team prepares, it's important to understand who has requested the report and who will be reading it, the business questions they want you to answer and the data gathering requirements you should consider and comply with in order to automate this process.
1. Finance Reports
Fiscal discipline is the cornerstone of shopper marketing reporting. All clients we work with are required to deliver regular financial reports and be able to answer the fundamental questions Sales and Marketing Finance wants to know:
How does shopper marketing spend affect monthly and quarterly financial forecast?

Which periods and quarters will shopper expenses occur in?

How much has changed since last month?

How much of your future spend is committed vs. soft?

What is the ratio of working vs. non-working dollars in your budget?

What is the share of coupon redemption liability vs. media in your budget?
Data Considerations:
Track and summarize coupon redemption expenses (ATL) separately from media buys and other non-price related activities (BTL).

Explain when the spend will occur (monthly and quarterly phasing).

Be prepared to explain any significant fluctuations and shifts of expenses between months and especially quarters.
2. Brand Reports
Brand Managers, Directors and VPs are some of shopper marketers' most important internal constituents because their brands' P&Ls directly or indirectly fund shopper marketing programs. Being able to build a transparent relationship and establish trust is essential for your team to rise above petty, tactical budget tracking debates and focus on strategy and long-term conversations with Brands. Get ready to share with them:
How was the brand's shopper marketing budget spent last year?

How did you support the brand initiatives and new product launches across major retail accounts?

How will next year's brand activation in retail be different from current/past?

How much of the brand's shopper marketing budget is committed vs. soft?

What shopper marketing programs drive best retail execution and incremental sales?

What retailer commitments can the brand obtain if they do certain types of shopper promotions?

What was shopper marketing ROI for the brand, by program?
Data Considerations:
Track each brand's share of scale/multi-brand programs and tactics (must set consistent rules to assign spend).

Combine brand-specific spend with historic sales data for lift/ROI evaluation of past events.

Track and report program sell-in status and merchandising commitments in real time to accurately report budget status and avoid dollars being "pulled" after the programs were already sold in.
3. Sales Reports
Another internal key partner for shopper marketing is the sales team. National Account Managers, Sales Directors, Sales VPs or Customer Team Leads expect you to be prepared and 'know your numbers,' just like they know their sales and trade spend forecast. Empower your team with the right knowledge and teach them how to answer questions that are on every sales manager's mind:
Which brands are focusing on which of their retail accounts?

How much does shopper marketing organization invest in each retail client, across all brands?

What national consumer promotions and central digital marketing programs are planned for the brand in your customer's RMAs (retail market areas) and how can you leverage them to sell in retail programs and secure incremental merchandising?

How will new product launches be supported by national programming and via customer-specific shopper marketing activities?
Data Considerations:
Aggregate all brands' budgets and activities at retail customer and sales team levels to illustrate scale and empower field-based teams to think bigger.

Get your calendar reports "sales-pitch-ready" knowing and using retail period calendars as default to avoid re-packaging information for customer sales and JBP meetings.
Buttoned-up Reporting
Financial, Brand and Sales reports are among the most common reports your retail and brand partners will ask for, but what they really want are answers to their business questions. They're looking to you to provide insight and solutions that will drive results, and the only way you can do that is through buttoned-up reporting capabilities.
Stay tuned for next week's Part 2 of this blog post that will dive into shopper marketing reports for your own team's use. These reports are a must-have in order for your team to stay informed, align your shopper marketing strategies and tactics and proactively manage your business.