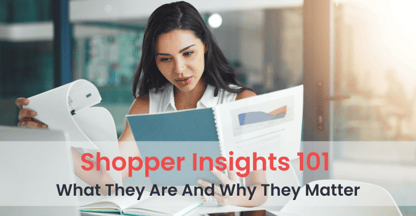 Success navigating the ever-evolving, hyper-competitive landscape of the consumer-packaged goods (CPG) industry isn't about making assumptions — it's about being fully informed. Utilizing data and insights is crucial for making knowledgeable decisions, understanding market dynamics, and shaping high impact marketing strategies.
In this post, I will explore the concept of shopper insights (SI) and will delve into its definition, its potential users, and the benefits its vast array of insights can provide. My goal is to provide a fundamental understanding for shopper marketers, helping them appreciate and realize the value of shopper insights and better partner with their SI counterparts. Harnessing shopper insights not only sheds light on the path to deeper shopper connections but also equips marketing strategies to propel unprecedented business success.
Shopper Insights Definition
To maximize the effectiveness of shopper marketing campaigns, a lot of thought and planning is put into understanding the category's shopper and gathering relevant shopper insights.
Shopper insights refer to any marketing research and analytics work related to understanding human behavior as it relates to shopping.
Shopper insights can answer questions such as who buys the product or service, when, where and why.
Shopper insights are the "golden nuggets" of actionable information that can inspire effective, relevant shopper marketing campaigns. To get meaningful insights, a lot of data gathering and data analysis via desk or primary research is often needed.

The shopper insights work in a typical CPG enterprise is conducted by a specialized team of shopper insights professionals, or marketing researchers and analysts, who work hand in hand with their shopper marketing colleagues. They inspire unique and relevant shopper marketing campaigns as well as help them analyze their campaigns' performance.
Difference Between Consumer and Shopper Insights
The lines between shopper insights and consumer insights can be somewhat blurred. While their goals are different, they often study the same target audiences and use similar research techniques. To make it even more confusing, some smaller CPG enterprises have consumer Insights departments that own shopper Insights work because they can't afford to establish a dedicated SI team.
To help you determine whether certain insights are better answered by SI or CI professionals, consider the following definitions:
Consumer Insights delve into consumers' motivations and behaviors, addressing why they choose specific products or brands and how they use them. This exploration uncovers aspects like lifestyle, motivations, preferences, and emotional triggers.
Shopper Insights, conversely, focus on the shopping experience. They uncover how, when, and where consumers shop for specific products, illuminating the factors influencing purchase decisions from the identification of needs to the act of purchasing.
Keep in mind that the consumer and the shopper can be the same individual — for example, a 35-year-old man buying shaving products for himself — or different individuals — a mother (the shopper) buying snacks for her children (the consumers).
While the consumer and shopper may be the same person, the strategies and tactics to engage them vary based on their actions, motivations, and shopping preferences. Understanding these nuances is pivotal for marketers — it fuels strategies that deeply resonate with customers, thereby driving sales and cultivating brand loyalty.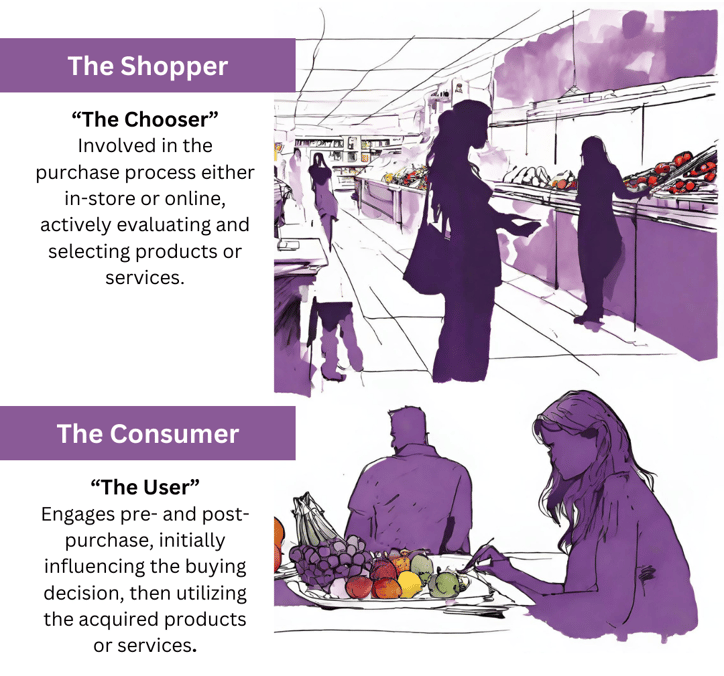 The Types of Data Used in Shopper Insights
The overabundance of data generated by retailers, shoppers, mobile devices, and even smart appliances offers an opportunity to gain a much deeper insight into shopper behavior.
First, let's review the different types of data, as in the world of CPG, data is ample and diverse. Marketers leverage:
Quantitative Syndicated Data: Numerical figures, such as sales statistics from point of sales data, that pinpoint trends and patterns.
Quantitative Consumer Research: Surveys that capture consumer sentiments, preferences, and motivations.
Qualitative Data: Interviews and focus groups that uncover the deeper motivations behind the numbers.
Big Data Analytics: Uncovers patterns from vast datasets, providing insights that drive decision-making. These are fueled by the surge in online shopping and digital touchpoints.
Each data type serves a unique purpose. Quantitative data helps in tracking performance metrics, while qualitative data dives deeper into the 'why' behind those numbers. Big data analytics, with its vast scope, provides a holistic view of market dynamics, often revealing unexpected patterns and trends.
Shopper Insights power many CPG Functions
Shopper marketing teams are some of the heaviest users of shopper insights, but the benefit of these insights isn't confined to just one department. Various functions in a CPG organization should leverage in developing their strategies and tactics, for instance:
Marketing teams can utilize shopper insights to align brand design and communication with broader brand strategy across channels.
Sales teams can leverage them to drive sales, influence shelf space, and partner with retail customers for joint business planning.
Product teams can tap into Shopper Insights to define assortment strategies for each channel and retailer, both online and in-store.
Digital Marketing & eCommerce teams can leverage online shopping behaviors to aid in personalizing shopping experiences, optimizing website layouts, search functionalities, and product recommendations.
Retail Merchandising teams can use it to develop the physical store's shelf design, layout, and in-store messaging to enhance the shopper's journey.
Supply Chain and Logistics can use to anticipate demand, streamline distribution, and optimize inventory based on shopper preferences and behavior trends.
Central to all the user functions are shopper marketers, who act as intermediaries, ensuring insights are translated into actionable strategies at retail touchpoints.
Harnessing Shopper Insights: Three Core Strategies for Shopper Marketers
Shopper Insights can pivot a marketing strategy from good to great. Here are three core ways these insights can be leveraged:
1. Enhancing the Shopping Experience:
Optimizing Purchase Journeys: Improve in-store marketing by identifying the critical decision-making moments in the shopping journey to engage shoppers. Offer strong messaging and eliminate purchase barriers and friction points at these, to drive shoppers down the purchase funnel.
Purchase Journeys vary by category, some may be very simple with low decision stakes, while for more "considered" categories (like medicine, beauty products, specialty foods), there may be many influencers on their purchase. Having a detailed understanding of brand targets' full journey is critical for success – learn more here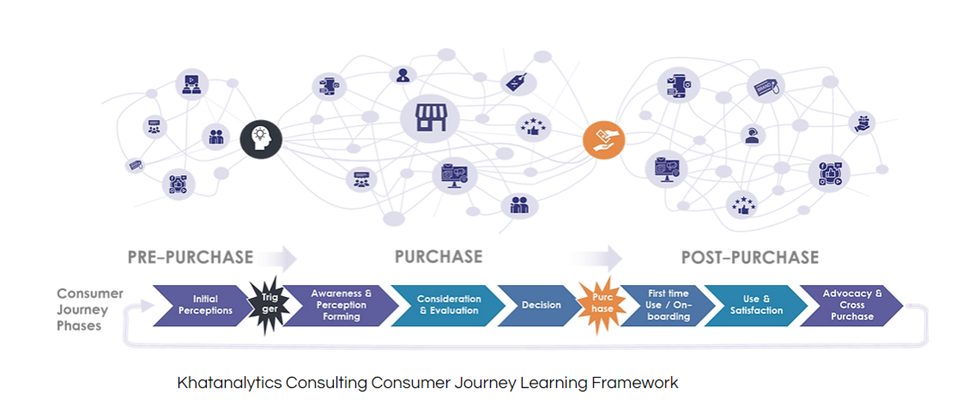 Personalize the Experience

:

Use demographic and behavioral data to tailor shopping encounters. McKinsey research finds 71% of consumers expect a personalized experience and 76% are frustrated when they don't get one.
Optimize Product Placement: Pinpoint high-traffic zones in-store or online for strategic product displays, or dual product placement. Going on "shopalongs" with shoppers provides marketers very eye-opening insights on how quickly people actually shop (often just seconds), with many on "auto-pilot" mode. Breaking through with new products or promotions requires creative marketing effort.
2. Effective Marketing and Promotions:
Boost Online Presence

: Consumers across all generations now expect an Omni-Channel experience. Prioritize product visibility and addressing shoppers' information needs (product features, benefits, reviews, etc.) across the right digital and e-commerce platforms.
Hubspot research found: 71% of Gen Z and 59% of Millennials say social media is where they discover products most often, while 50% of Gen Z and 58% of Millennials said searching the web.


Find more statistics at
Statista
Personalize offers: Leverage purchase histories and retail shopping basket analysis to get cross-promotion ideas and design ultra-relevant offers. Analyses of syndicated panel data from Nielsen or Circana (previously IRI) can yield insights to build high ROI strategies as well as influence retail partners to deploy promotions.
Develop Seasonal Campaigns: Craft marketing strategies based on seasonal shopping behaviors. Categories will vary in their seasonality, with the Holidays spiking for those where food is involved, while health categories often spike in the beginning of the year with new resolutions.
3. Product Strategy and Loyalty Programs:
Refine Product Assortments

: Evaluate the performance and shopper preferences of different sales channels and optimize assortments accordingly. Understanding the different shopping trip "missions" for categories is key to building strategies for both retailers and products. E.g., the trip type for buying potato chips differs when buying at a local convenience store vs a club retailer like Costco.
McKinsey shows shopper behaviors differing by occasion and need:
Foster Loyalty: Design programs that reward consistent buyers by leveraging retailers' frequent shopper data.
Retailers with loyalty programs have masses of data that manufacturers often will buy, (e.g, Walmart's Illuminate, or Kroger's 84.51). Analyses of these can yield important learning for marketers on shopper profiles and purchase dynamics.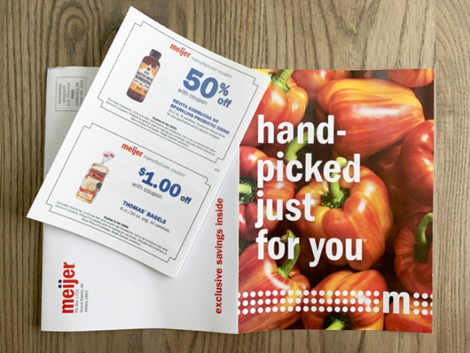 Evaluate and Optimize: Consumer behavior and market dynamics are constantly evolving. Regularly assess sales channels' performance and continuously optimize.
Ongoing tracking of performance, including execution of planned strategies, using syndicated data or primary research is critical to flex programs to ensure success.
Types of Shopper Insight Studies
From the above examples you can see there are numerous types of shopper studies that yield valuable insights into various aspects of the shopping journey. The SI team will select the most suitable approach to address varying business queries:
Shopper Path to Purchase Study: Uncovers all the decision-making touchpoints across a shopper's journey. This includes triggers and barriers to purchase, helping brands align their offerings with shopper needs.
Shopping Trip Missions Study: Investigates why shoppers choose certain channels, ensuring the best product assortment, packaging and price architecture are offered.
Shopper Segmentation: Segments shoppers based on behavior and preferences, providing targeted marketing opportunities for channels and retailers.
Retail Design and Shopper Navigation Studies: Examines user experiences in both physical and online stores, helping brands optimize layouts and navigation by overcoming barriers.
Product Assortment by Channel: Informs brands about the best product mix for each sales channel.
Shelf & Point of Sale Communications: Explores the impact of shelf placement and POS messaging on shopper behavior, and more!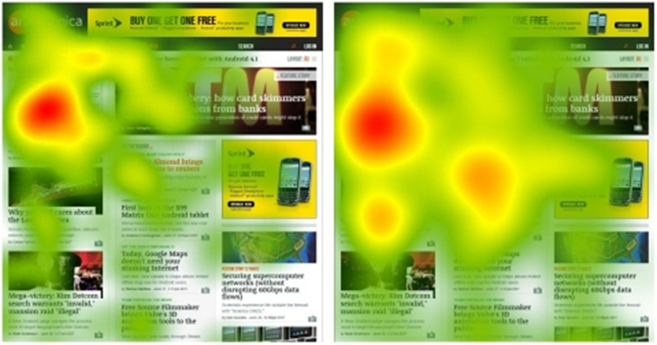 Source: Tobii Pro – eye tracking Heat maps
A Day in the Life of a Shopper Insights Professional
Are you curious to know what your shopper insights colleagues actually do? They typically have deep expertise in primary research, and often strong experience with secondary research (e.g., Nielsen POS and panel data). Here are some key activities they do on a regular basis:
Engaging with internal and retail customer stakeholders (including Shopper Marketers) to understand their goals and critical questions they need answered.
Developing detailed research briefs for each project to ensure all questions are addressed.
Determining the most effective research approaches and vendors for each project, conducting RFPs to secure the best research methodology options and pricing.
Overseeing research in field to ensure it gets done right via vendors.
Collecting and analyzing data from various sources to generate actionable insights.
Collaborating with marketing and sales teams to communicate insights and craft strategies.
Staying updated with the latest tools and trends in the Shopper Insights field.
Why Do Shopper Insights Matter?
In a highly competitive and data-rich marketplace, shopper insights are crucial for creating compelling and differentiated marketing strategies. Understanding these insights isn't a luxury—it's a necessity for connecting deeply with your audiences, enhancing their shopping journey, and driving sales.
Another big reason for embracing shopper insights is to enable strategic conversations with your key retail customers. The top-to-top and Joint Business Planning meetings with retail leadership are a lot more productive and collaborative when marketers come armed with shopper insights and teach retailers something new about their shoppers. Shopper insights put your mutual shopper in the center of the conversation, create a win-win atmosphere and guarantee your team a seat at the table when important decisions affecting your categories and brands are made in retail.
Are you new to the shopper marketing world? Subscribe to this blog and stay engaged with our Shopper Marketing 101 series. For budding marketers, the vast world of insights offers a transformative journey. Dive in, explore, and leverage the knowledge to revolutionize your marketing strategies.
Khatanalytics Consulting specializes in Consumer and Shopper Experience Journey research. Get in touch to discuss your shopper research needs.
Other Posts You May Like: