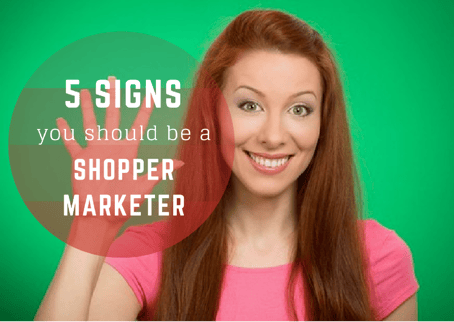 Are you considering a career in shopper marketing? Or, perhaps, someone said you would make a really good shopper marketer, and now you wonder why they thought so?

Shopper marketing is still a relatively young discipline, and it attracts people from all sorts of backgrounds. Many come from the brand management space and other traditional marketing roles. Other popular sources of talent for shopper marketing are sales, consumer promotions, marketing research, category management and advertising agencies. Regardless of what your previous experience is, here are some personality traits that are important to succeed in shopper marketing:
1. You Thrive in Times of Ambiguity
Change and uncertainty feel normal and don't stress you out. You are comfortable operating with assumptions and scenarios and great at adjusting plans on the fly. You don't need to have all the answers to act on an idea. With these qualities, you will do well in shopper marketing because change is the name of the game. With brands' and retailers' plans constantly shifting, you are guaranteed to have limited data to go by and a lot of last minute surprises.
2. You Have a Balanced Right and Left Brain
You have strong intuition, shopper empathy and understand shopper insights deeply, which helps you paint a big picture through compelling stories. At the same time, you have all the little details buttoned up and figured out. You appreciate complexities and intricacies involved in building a multi-touchpoint marketing campaign, what metrics it needs to drive and how to quantify and illustrate the story you are telling. In other words, you equally respect and appreciate the artsy creative types and the geeky analytics types who work with you and help you get things done.
3. You Love to Sell and Don't Take "No" Personally
In shopper marketing, you are constantly selling. Internally, you are selling ideas to get incremental funding approved. With customers, you are selling ideas to get merchandising support. With your sales team, you are selling yourself and your services to become their indispensable partner. Figuring out a value proposition, putting together selling stories and pitching them is what shopper marketers do all the time, and it doesn't always work. If you get discouraged when you don't win a sale every time, if tenacity and grit are not your strengths, reconsider! Maybe you are better off working in customer support, finance or operations.
4. You Are Natural at Networking, Connecting the Dots and Breaking Down Silos
Shopper marketers (unlike the traditional marketing roles that sit in an "ivory tower" and simmer in their brand worlds) are always on a lookout to partner, create complete shopper solutions, win business through alliances with complementary products and share knowledge with industry peers. When you hear the word "pasta", does your mind evoke "pasta sauce", "meatballs", "garlic bread" and "salad"? If so, then shopper marketing would be an exciting "puzzle" for you to figure out!
5. You Prefer to Be a Generalist Rather Than a Subject-matter Expert
Shopper marketing scope is so vast and ever-changing that it's impossible to dwell on one narrow aspect and know all of its ins and outs. Perhaps, the only area you should develop a deep expertise in is how to partner with your retail customers. Otherwise, you will be in charge of a large product portfolio. You will leverage a myriad of marketing tactics along the Path to Purchase, so you will have to relinquish control and rely on experts in order to get a lot of things done. Is "Jack of all trades" a label you proudly wear? If so, Shopper Marketing will be a good place for you.
If you have most of the above qualities, we encourage you to explore a career in shopper marketing, most likely, you will fit right in! If you are a shopper marketing incumbent, send this article to your friends and colleagues who are curious about the industry.
Share your ideas about key personality traits that correlate with shopper marketing success in the comments section below!