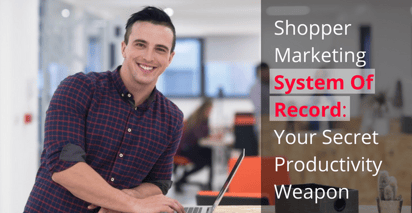 You have an app for everything in your personal life, and you probably can't image what you'd do without a few of them (Spotify, Snapchat, Calorie Counter and Alexa to name a few). Yet you still use old-school, messy systems and spreadsheets when it comes to managing your shopper marketing process, budgets and promotional calendars. Maybe it's time to upgrade to a shopper marketing system of record?
See how your team's productivity can be unleashed if you do:
1. Identify Opportunities to Drive Scale
Is having fewer, bigger, better initiatives one of your goals this year? Welcome to the club! Virtually every marketer we spoke to aspires to make this a reality because it's a smart and strategic thing to do. If you want your team to focus on several big initiatives, you need to give them a simple way to do so and report back to you. With a system of record where plans can be strategically aligned around key shopping occasions or selling seasons, you can easily monitor your team's activity and guide them to focus their efforts where they really matter. Many of our clients admit that only after implementing such systems did they realize how many one-off, tactical programs they were running and how far their team was stretched to support too many non-strategic customers. Having one place to capture all activity finally gave them the insight to make strategic investment decisions.
2. Improve Your Shopper Marketing Processes
Our observations of the dozens of prospect and current clients convinced us that a system of record will not just improve reporting but can fundamentally improve internal processes. A real time, user-friendly planning system makes it easier to:
Gather and share

early input into brands' annual operating plans

and integrated marketing plans

Instill budget ownership and accountability by letting shopper marketers build bottom-up plans and justify budget asks

Create a transparent communication flow with key matrix partners during planning season and throughout the year
None of this is possible if your organization still relies on disconnected, offline documents.
3. Save Time Generating and Updating Reports
If you are using spreadsheets to plan and report, ask your team how much time they spend preparing reports to finance to close each month or answering a basic question like "How much funds are committed at this point?" that you may casually drop. You may be surprised to hear there is a lot of manual labor involved in generating those reports. Standardization is a key feature of any system of record, which allows your entire team to gather the data they need easily and quickly every time. Aligning the data inputs and naming conventions up-front will require some work and learning curve, but this work will bring significant benefits down the road because virtually any type of report will take minutes, rather than hours, or even days, to generate. Now your team can finally spend more time talking to shoppers, brainstorming ways to grow the business, and selling and executing their ideas.
4. No More Status Update Meetings
It' is not a secret that meetings take up too much of shopper marketers' working hours, and the time in meetings is not spent productively. Having a system of record where planning happens in a standardized, transparent, granular and real-time way will cut down on the number and the duration of meetings. WIth a robust planning and collaboration system, meetings will naturally drop off and shrink down because rather than spending most of the time sharing basic information and updating colleagues on status of the work that is being done, you can now focus on discussing complex ideas that need to be constructively evaluated and on important decisions where team consensus is required.
5. Work from Anywhere
The most progressive employers are implementing work from home policies and trusting their employees to do work when it suits them. Shopper marketing is a very dynamic, fast-paced function that often requires a physical presence in customer sales calls and cross-functional team meetings, plus, the traditional 'presence culture' still runs strong in the CPG world. This makes it hard to fully take advantage of the progressive flexible work arrangements, even if they are officially endorsed by the executive management. With a system of record where projects and tasks are clearly assigned and progress can be easily monitored, the dream of working remotely, at least part-time, can come closer to reality. A good system of record will have real-time, contextual notifications and discussions to let colleagues connect and update each other in a way that doesn't require physical co-location.
6. Be Notified When and Where It Matters
Shopper marketers typically have a lof ot pots in the oven, and it's easy to let some important tasks 'fall through the cracks.' To help your team focus on the important and urgent work, a system of record should allow them to set up alerts and notifications to make sure important deadlines are not missed and they do not get bombarded with too many updates. No more paying expedite shipping fees because someone missed an artwork submission deadline!
7. "Feed" Your Analytics Process
Setting up a robust and timely measurement process is a huge priority for most shopper marketing leaders we spoke to, but few of them know how to enact it in a sustainable way. Analytics requires a strong commitment and accurate, granular, and timely data. A post-factum, spreadsheet-based input data gathering to feed post-event analysis is a very expensive endeavour. The manual data gathering process compromises data quality, the team gets distracted from their main work, and the time it takes to gather the inputs often renders the results of the analysis non-actionable or obsolete due to long retail planning horizons. A system of record that doesn't just help your team plan and collaborate but simultaneously gathers analytics input data, helps avoid double-work, enables almost real-time analytics, and drastically reduces human error factor and thus improves the quality and reduces the cost of your analysis.
Looking for the Best System of Record for Your Shopper Marketing Team?
With real time dashboards, user-friendly granular planning interface, automated reporting, sleek calendars and real time notifications, Shopperations is a unique and highly relevant system of record for shopper marketers. Learn more about Shopperations by requesting your free demo.