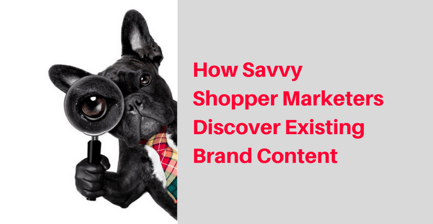 We've all heard it before – content is king. Teams that consistently leverage content in their shopper marketing efforts build not only stronger brand recognition and loyalty but also more collaborative and productive retailer partnerships. Where do you find time in your already jam-packed day to generate vast amounts of content for your shopper marketing programs? Good news is: you don't have to do it alone. Rather than creating content from scratch, look for existing brand content that is very likely already being produced across your enterprise.
Content is everywhere and nearly everything can be considered content. Great content is the difference between shopper marketing campaigns that build loyalty and profits and the ones that are quickly forgotten. Bob Gilbreath Co-Founder and CEO of Ahalogy said,
"There is no easy "formula" or recipe for great content — sometimes it's surprising what people find interesting. But generally speaking, great content tells stories. Human brains are wired to respond to storytelling, and the more authentic and relatable the story is, the stronger the reader's response."
Your Shopper Marketing content has to be different enough, compelling enough and relevant enough to fight through the clutter in order to elicit a strong shopper response.
Never before has there been such a vast supply of content available – signage, displays, videos, social media, blogs, shopper-generated content, and more. That's as true in retailer aisles and on partner websites as it is across the Internet.
But what does the flood of content mean for Shopper Marketing programs? Consider how often you've had one or more of these thoughts:
My retail partners are going to require content for this program.

I have little to no available content that works for this particular program.

And I have limited budget.

My agency resources are limited by predetermined scope.

Internal partner teams and their resources are already committed to other projects.
So, what do you do? How do you acquire, produce or otherwise supply retailers the online and offline assets needed for your programs?
Here's Where You Start
Accept that what you initially see as a problem could actually be a tremendous opportunity – just as ubiquitous as the need for content, so too are the diverse areas across the enterprise where existing content and similar work can also be found. For instance, one CPG company I work with has had content production and content management occurring in at least five different groups BESIDES Shopper Marketing!
Here are a few examples of where you can look to help satisfy the needs of your retailer partners, depending upon the organizational structure of your enterprise:
Advertising
This is the most obvious. No single area has been as synonymous with content and content creation for as long as Advertising departments. In most traditional organizations, legacy Advertising practices could yield raw assets and/or finished content from national television/print campaigns, out-of-home and more. And while this content may or may not fit well with your retailer activations, it could provide anything from a wider breadth of available assets to entirely new inspiration for future programs.
Digital/Social
Again, depending upon a given company's organizational structure, Digital/Social may or may not have been merged with Advertising. Because, let's face it, just as everything is content at this point, so too is the reality that all content is digital or exists in a digital form. And anything that exists digitally can also be leveraged in social channels. Understand the various rights limitations attached to the individual assets. This is especially true of video, but also some photography. Savvy marketers will negotiate unlimited usage of content in perpetuity whenever they can, but most video – particularly television – will be bound by specific rules on where the content can be used, and for what duration. In the end, it's not worth saving a few bucks on content production at the expense of causing greater issues for the enterprise (more on this in a future post!).
Communications/PR
It's hard to imagine, but Communications and/or Public Relations teams also still sit separately of Advertising and Digital/Social in some companies. Whether it be for corporate communications, brand PR or other external communications needs, Comms teams will often require their own original content production and asset management. Just as with the areas above, you'd be surprised at the vast an array of content your Comms peers may be sitting on or planning for their own programs. Ideally Shopper Marketing would be part of the same integrated planning, but we all know that's not always the case.
R&D/Innovation
We're getting a little farther afield here from where you might typically look to fill your content needs. But think about it. Who else has a better line of sight to new products and exciting brand news for retailer activations than your Research & Development/Innovation teams? While you may not always have access to this information as early as you'd like, being dialed in to this part of your organization could well provide knowledge of new innovation in the pipeline, perhaps as early as 12-18 months or more in advance. You could build some pretty good programs with that kind of lead time.
And what does each of these new products require – digital photography and other assets for new packaging. Which brings us to the last group…
Product Design/Packaging
This may or may not be a separate group from R&D/Innovation, but either way, their efforts are intrinsically linked. Brand Design teams are charged with the all-important tasks of building and maintaining master brand architecture and bringing it to life through their work. This opens up perhaps the richest vein of content for Shopper Marketing activations – access to the brand book and master brand assets, either for existing brands undergoing renovation all the way through to new products and perhaps even entirely new brands on the horizon!
Making connections with these groups within your organization will almost certainly open up avenues of content sharing that you likely never otherwise would have thought of.
Start Small but Think Big
We recommend starting small, bartering existing or even planned assets and finished content with your colleagues across the organization. For instance, those food shots you took for rack cards might be of use to colleagues who need them for an FSI. Or they might have the shots you need that could keep you from needing to shoot new ones in the first place! This will foster a sense of team in a mutually beneficial way. At the end of the day, you're all there to serve the same enterprise, and likely the same brands and programs, too. That should get you the initial buy-in you'll need to get started.
Over time, you can devise a system of more sophisticated content production, content sharing and cohesive activations as a result. More on that later, but you may find our blog "Where does Unused Shopper Marketing Creative Go?" where we talk about creating a "creative sanctuary" interesting..
Hey, Rome wasn't built in a day. But it did start with a king.