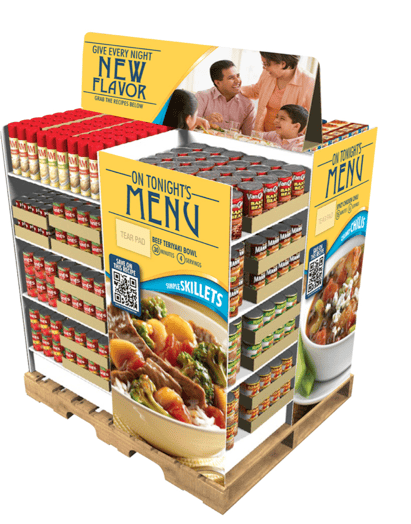 'Tis the season of cocooning, a time when holidays are over, our wallets are thinner, our bellies are thicker and the cabin fever is looming. Getting back on track is what this season is all about. Eating out less, not indulging in desserts, cooking warm, wholesome dinners is what many shoppers resolve to do.
January and February are a perfect time to introduce in-store meal solutions. Some retailers do it in a form of sampling and cooking demonstrations; others launch series of temporary meal solutions displays and end caps, yet others refresh their permanent meal solutions destinations to offer healthier ideas and ingredients.
If you are a retail marketer, you may want to start planning your 2017 post-holiday meal solutions today. Where do you start? Here are 12 steps to building a temporary meal solutions display that Scott and I believe are essential for success. The sequence is not rigid, some steps can be paralleled or switched places, but we found that the general order makes most sense and helps avoid rework.
Research popular meals – Most families are stuck in rut of 5-8 meals that they constantly rotate. Help them break out of the mold but start with proven winners. See 50 All-Time Dinner Favorites from Food.com
Pick the best recipes for your target audience – consider the following recipe attributes:

Ease

–

even if your shoppers could poach eggs, they probably wouldn't do it for weeknight dinners
Number of ingredients – limit to eight or less (do not count pantry or staple items like salt, oils and popular spices)
Number of pots & pans

–

limit to one or two (skillet meals and crock pot dishes are season appropriate and super easy for clean up)
Time to Prep & Cook

–

limit to 30 min or less
Mainstream appeal – Ask yourself: would my Aunt Bettie eat it? Avoid kimchi, mole and pickled herring dishes, no matter how trendy they are among your gourmand friends.
Ratings and reviews matter – select proven favorites from your recipe portfolio.

Find a corrugate vendor. Contact an experienced pallet designer with flexible capabilities, variety of design options and services and debrief them on your objectives requirements. We loved working with IDEALpop, Menasha, WestRock, and PCA on our display projects.
Pick SKU mix & determine pallet quantities – opt for faster moving items. Use SKU-level sell-through data, by store, to determine optimal quantity of product per pallet and to ensure even product depletion and overall number of stores that can handle the pallet volume. Take display weeks as a baseline and, if you plan to heavily promote your Meal Solutions, make sure to plus it up to avoid out of stocks.
Design display structure and artwork. Consider not only capacity, but also structural stability, shopability, and "real estate", or side and header panel area, to communicate with shoppers.
Modify recipes if needed. Often, it makes sense to switch out rare flavors with "original", or reduce the number of ingredients to make the recipes simpler. Ask for help from your own culinary department or reach out to your brand partners to help with that. Remember to adjust nutrition label when making significant change (you can generate new nutrition labels on http://nutritiondata.self.com/mynd/myrecipes) and give credit to original recipe creator who inspired your new version.
Make your display talk. Use side panels and headers to draw shoppers in. Large appetizing food shots are preferred over lifestyle images. Neuroscience research suggests that close-ups of "food in motion", such as pizza slice being pulled apart, guacamole hanging on a chip, etc. are most attractive to human brain.
Make it financially sound. Run a P&L with product, material and labor costs, to determine the break-even quantity of displays to offset margin dilution.
Set up new pallet SKU in your internal ERP system to make it possible for the stores to order them
Recommend a proper in-store location. Set up displays close to fresh meat or produce to help shoppers complete the recipe. Consider a permanent destination for shoppers to discover simple meal ideas and rotate recipes every few weeks.
Cross-promote ingredients to incentivize a complete meal. Offer discount on meat when other recipe ingredients are bought together. Consider single price point for the 'recipe bundle' – showcase "meals for 4 for under $X"
Build & Ship! Produce corrugate & ship pallets to DCs from where they will ultimately be shipped to stores.