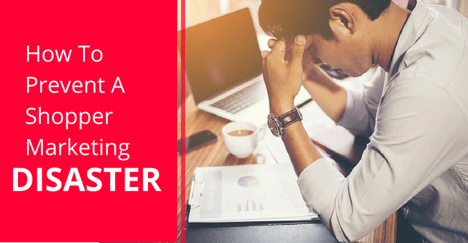 What is the common thread that unites Mondelez, Merck, WPP, Beiersdorf, Auchan Group and Metro? All of them fell prey to the ransomware attack last summer.
The virus named Petya hijacked their computer systems and demanded a ransom payment. Companies' computer systems and vital parts of operations, including marketing departments, were paralyzed for days, and in some cases, weeks!
Ransomware attacks are on the rise, according to the Sophos' "State of Endpoint Security Today" survey, 54% of companies surveyed reported having been hit by a ransomware attack in 2017. The cost to company was not only the ransom paid, it was also the loss due to the forced downtime, people time, device cost, network cost, lost opportunity and so on, on average the reported cost was $133,000, however some companies reported a crippling $13MM loss.
Worryingly, retailers were among the top targeted companies.
While this scenario in an extreme case, business process interruption is a common occurrence in the CPG and retail world.
Think, for instance, how much downtime and indecision your organization has experienced due to:
1. Sudden Key Employee Resignation
Oh, the horror - and cold sweats - associated with losing your key team member, one that holds a wealth of knowledge, which upon their resignation and subsequent departure, disintegrates.
In fact, just recently, a prospect client lost half of their small team. Chaos ensued and the company is in crisis. They have lost the intelligence that the employees built over the years. Now they cannot move forward or make any decisions until the vacancies have been filled. Unfortunately for them, the process is still at a stand-still, which spells continued losses.
2. Organizational Changes
Re-organizing is a permanent state of the CPG industry. We see companies merging and splitting, acquiring new products and downsizing their portfolios, "re-wiring" internal reporting relationships (is shopper marketing reporting to President of Sales or CMO?), seeking new business models that will unlock growth… All of this is very disruptive to your business. It is no longer clear who calls the shots and when the dust will settle.
Even after a new org structure is announced and new leaders are appointed, teams are reluctant to charge ahead. "Wait and see" mode is activated, no decisions are made until the new leader is on-boarded. Bringing the new leadership up to speed is another huge disruptor for the team. Suddenly, simple questions from management cause fire drills, tons of PowerPoints are created, teams spend hours in long meetings, with yet more follow-ups…
During these transitional times, we see people shuffled in and out of teams with little notice or opportunity to do a proper handover. We see new roles created without clear job descriptions, open positions go unfilled for months, new leaders who, in the absence of historic context, attempt to rebuild the processes from ground zero.
In a word, disruptive!
3. New Agency Of Record
Perhaps you have switched your agency, the perfect example of a long learning curve! There is often little or no overlap between the two contracts, with no formal hand-over or transition period. The old agency has left the building - so to speak - and the new agency has to pretty much start from scratch.
A new agency usually takes about six months to fully on-board, because not all the account-facing positions are filled right away and may remain open for months. In the meantime, client's internal team has to step in to pick up the work.
Once the new agency team is fully staffed, they have their own challenges to overcome. Not only do they have to learn their new clients' working style, but also the entirely new product portfolio, clients' internal systems and processes; they have to decipher the old agency's cryptic notes and spreadsheet trackers (that is if they get them).
Managing this critical time and ensuring the transition from the old agency to the new one is smooth and productive is not easy, but there are things you can do to ease this pain.
So, What can shopper marketers do?
While the above events appear to be a lot more benign than a ransomware attack, they are just as disruptive. They create anxiety and stress; productivity plummets, and your team's ability to operate in a smooth manner and effectively do their jobs is severely impeded.
So, what can you do in order prepare for and survive these dastardly disruptions? Here are some ideas: