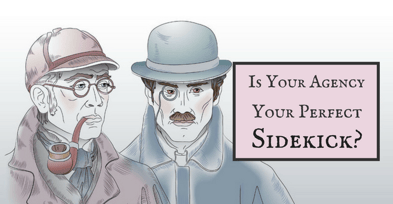 If you are building or revamping your company's shopper marketing capability, I assume you are a person of high energy, strong work ethic and grand vision. Someone who pays attention to details but can use deduction to articulate a far larger picture — a bit like Sherlock Holmes. However, even the most capable leaders cannot deliver greatness alone, and the most successful of them pick the right partners (i.e. sidekick) to amplify their impact. One such partnership that yields a tremendous influence on your everyday work and its outcome is your shopper marketing agency.
Picking a capable agency is indeed a very important success factor. A great agency will be your sounding board. They will help you better understand yourself and will challenge your worldview. They will teach you new things, expose you to both tried-and-true and cutting edge opportunities. They will connect the dots, create new partnerships and help you drive scale. They will bring "abundance mentality" to the table and inspire your team to think big without losing focus on the execution. In other words, your shopper marketing agency should be the Dr. John Watson to your Sherlock Holmes.
A mediocre agency will drain your energy in endless creative revisions or time sheet tracking conversations. They will waste time and opportunities passively waiting for you to tell them what to do, will shield you from the high risk/high reward options and play it safe hoping that more of the same will somehow lead to better results. Sherlock Holmes had no time for the mediocre and neither do you. Finding an agency who is the counterbalance to your greater goals requires a clear view of what you expect from your shopper marketing agency.
How do you find your perfect agency?
A simple answer to finding your perfect agency sidekick is: it will complete you like John Watson completed Sherlock Holmes. Your agency will understand and appreciate your strengths and weaknesses for what they are and design a service offering that meets your unique situation.
A more complex answer is: finding the perfect agency depends on where you are in your shopper marketing journey. If you are looking to build a new shopper marketing capability from the ground up, you may need a full service agency so you can rely on variety of their services, leveraging them as an extension of your team. If you have a large and sophisticated shopper marketing team and mature shopper insights and marketing services departments, you may opt for an agency with top-notch creative talent that deliver ground-breaking campaigns.
Regardless of whether you work with a major agency powerhouse or a small boutique shop, great shopper marketing agencies must meet your needs in the following four areas:
1. STRATEGY
Strategy is a foundation no successful shopper marketing agency can stand without. Often, traditional ad agencies pivot and position themselves as "shopper" agencies, without addressing the strategic underpinning of their work. If you want your agency to be an equal partner who understands shopper marketing and its unique pain points, and not just an order taker, look for:
Shopper Savvy:
How well do they know the shoppers and what influences their behavior along the path to purchase?

Do they have in-house Shopper Insights capabilities? What type of foundational research have they done for their clients? How did this research influence their work?

Do they know the latest shopper-facing technology trends?
Retail Customer Savvy:
How well do they know the customer? Can they articulate their key strategies and show implications for your brands?

Do they have feet on the ground in customers' headquarter cities, where your sales teams are? You will need their eyes and ears "in the field", especially if your internal team is still small.

Do they have a direct relationship with your retail customers? Can they open new doors for you?
2. CREATIVE
This is what agencies are traditionally great at and the main reason we hire them. Agencies know best how to attract, retain and harness talented designers, writers and producers. Like Dr. Watson, they're the storytellers that show the world the brilliant work of another. Agency work is highly visible, exciting and captivating, it earns awards and recognitions and is easy to appreciate. When seeking agencies with best creative talent, make sure you understand the two caveats:
Who will work on your account

: The catch is that all those talented people who win the awards may not end up working with you. To get an accurate gauge of what to expect from creative quality standpoint, request that the capabilities presentations only showcase the work of the creative team that would be assigned to work on your account

How the creative process works

: Specifically, you need to gauge the amount of time that junior and senior creative teams spend on different types of assignments. You don't want to overpay for senior talent when all you need is a coupon artwork, but you equally don't want to be penny pinching when you need to deliver a new groundbreaking shopper platform concept.
3. PROJECT MANAGEMENT
A great shopper marketing agency must be an expert in project management. This less visible, back-office mastery, is seldom appreciated when it works, but is hugely annoying when it doesn't. It requires organizational skills, a sense of urgency and understanding of the dependencies and intricate details of the entire project. Talented PMs are very different from talented creative directors, that's why finding an agency that is equally good at creative and project management work can sometimes be tricky. When investigating agencies' project management capabilities, ask how they help their clients with the following:
Cost estimation

Contract bidding and vendor management

Invoice and redemption reconciliation

Budget management and financial reporting

Communications and stakeholder management
4. ANALYTICS
More and more agencies are partnering with analytics firms or building their in-house analytics teams to deliver on a huge unmet need: shopper marketing spend optimization that the entire industry is obsessing about. What it means in practical terms is that these agencies:
Officially proclaim ambition to not just design the programs but also analyze their performance

Make investments to procure their own syndicated sales and and shopper behavior data

Are savvy about data systems and emerging marketing automation technology

Have a good grasp and can clearly articulate industry analytical best practices

Put effort into organizing program performance into comprehensive systems to enable benchmarking for their clients
The Final Question: Would You Share a Flat?

Okay, so you're not really becoming flat mates like Holmes and Watson, but there's something to be said for knowing you and your agency share more the same end goal. While many of the "hard skills" described above will be extremely important for the success of your agency-client relationship, don't forget to look for the intangible qualities, or "soft skills", that make a partnership work. Make sure your agency partner has the same strong work ethic, ambition and integrity as you and your team. The camaraderie, the shared vision and common values will help you acquire new skills together and successfully navigate today's constantly changing shopper marketing domain.