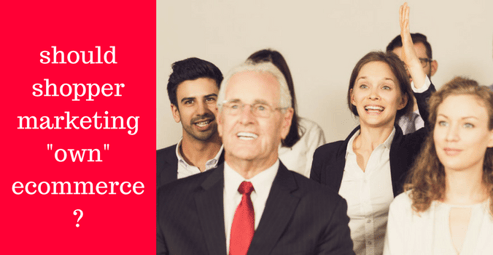 After attending the Path 2 Purchase Expo on September 26-28 and the Online & Digital Grocery Summit on November 8 in Rosemont, IL, it's clear that eCommerce is the obvious hot topic of discussion. And for good reason. Forrester predicts that online sales will account for 17% of all US retail sales by 2022, up from a projected 12.7% in 2017.
Ecommerce is this seemingly unchartered territory for most CPG companies though. Brands know they need to get educated on the space and capabilities in order to accelerate business and sales.
At both of these events, the rooms were packed with shopper marketers, sales managers, category leads, CEOs, account executives, marketing directors, brand managers, and business development managers. Since eCommerce is such a trending topic everyone wants to dive into this space.
Ecommerce needs to be the responsibility of someone, some team or in some cases, multiple teams. With 95% of Americans shopping online yearly, 80% shopping online at least monthly, and 30% shopping online weekly, this is a trend your company would be foolish to ignore. Putting this enormous responsibility into the hands of the right team(s) will help to ensure success in the space. But whose responsibility is eCommerce strategy, plans, and execution anyways?
Different Ways To Approach The Ecommerce Space
There are many different ways your company can approach diving into the eCommerce space. The basics that whatever team responsible will have to own, include getting educated on the space, vetting vendors, creating capability decks, and presenting findings to senior leadership. Once a full-stack plan has been established and approved, the team can then work with the vendors, sales managers, brand managers, and other parties to execute the plan.
Here are a couple different pros and cons for each team your company might be considering for these responsibilities:
The Shopper Marketing Team
Pros:
Most eCommerce work will be done on retailer websites and we all know that retailer specific initiatives are a shopper marketer's responsibility
Great opportunity and exposure to this emerging trend for other job/growth opportunities down the line
Already works closely with the brand and sales teams on their plans
Shopper marketing initiatives and eCommerce initiatives can share similar tactics. For example, having an influencer marketing campaign that drives consumers to specific retailer websites and offers them a discount code
Cons:
A lot of work to manage on top of all the other responsibilities a shopper marketer has
Typically there is no additional headcount to assist with eCommerce execution
And since shopper marketing budgets are typically smaller than brand or trade, there might be no additional funds in the budget to spend towards these new (and expensive) initiatives
The Ecommerce Team
Pros:
A dedicated team member or team to devote solely to eCommerce strategy and management
Would report directly to head of sales or head of the company is a good idea, so the red tape can be removed and learning expedited
Depending on the organization and what they already are doing in eCommerce and how far behind they are, the decision to invest/realign may be more or less aggressive
Ability to evaluate the gap vs. industry peers and map out a plan to close it fast
Cons:
Could be expensive for small companies to staff and provide a budget to an in-house ecommerce team or consultant
Since eCommerce is new to most companies, you need to advocate and get approval from senior leadership on staff count and budget which can be time consuming
The Sales Team
Pros:
Familiar with their own retailer(s)
Has rapport with their buyers they can use as leverage to show they are a "good brand to work with"
Typically, trade has larger budgets to work with
Cons:
Lack of time to devote to this type of initiative
Not familiar with overall marketing initiatives and strategies
Only familiar with their retailer and not the general eCommerce space
Often remote and not headquartered in the office with the CEO, brand managers, shopper marketers, etc. making communication more difficult
The Brand Team
Pros:
Experts on their category and products
Usually they have larger budgets and more headcount to take on this type of expense and initiative
Ecommerce plan could already be part of their broad marketing plans
Well-educated on marketing trends and strategies
Already has a list of vendors they work with that may have the capabilities to take on eCommerce work
Cons:
Generally not knowledgeable on specific retailers' space
No time to devote to eCommerce management on top of all their other responsibilities


All Four Teams (shopper marketing, eCommerce, brand, and sales)
Pros:
Since each team is an expert on their own space, everyone's insight is valued
Can work together to create a cohesive plan
Each team has a stake in the success since eCommerce affects the entire company
Can create an eCommerce Center of Excellence that includes a representative from each team for open communication and overall success
Cons:
Too many cooks in the kitchen can cause confusion and drama
Challenge in divvying up tasks and holding one another accountable
At the end of the day, your company needs to decide which method makes the most sense. eCommerce can't be a part time responsibility and be done on a side of some team's desk. It has to be staffed and funded appropriately to be taken seriously.
There is a lot of money at stake if an eCommerce plan is not executed properly. And if the team is successful in their mission, they will surely be recognized for their efforts. But before that happens, your company is tasked with the challenge to hire, staff, and assign the responsibility to the right people.