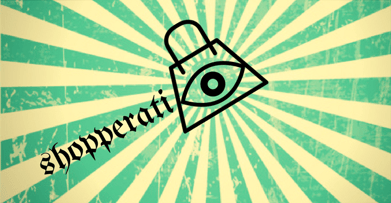 If you work in CPG or Retail industries, chances are you've never heard of Slack. Here at Shopperations, we've tried many apps that came and went over the years, but few have become our favorite and caught on like Slack. Salesforce, eBay, NASA, HBO, Intuit are among 100,000+ large and small companies that have embraced this awesome collaboration software. It is truly taking the world by storm. According to Slack, as of August 2015, 70 of Fortune 500 corporations had used their application.
So, what is Slack?
Slack is a hybrid of instant messaging, audio and video calling, and social media. It is essentially an e-mail killer app that promises great productivity improvements. Slack has both a browser-based interface as well as a desktop and mobile applications, which offer even better user experience.
Why Slack communities is a smarter way to network
While most teams use Slack internally to improve communication and enable remote team connectivity, a growing number of users are turning to Slack as a community platform where people from multiple companies can share best practices, partner, and innovate openly. There are many existing communities you can join, here is an unofficial community directory.
Slack communities offer quite different networking experience for several reasons: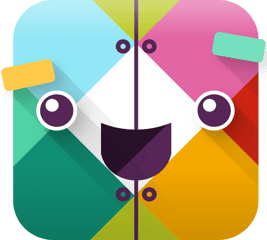 Most Slack communities are free to join and don't require membership fees. These typically are invitation-only groups, so spammers and irrelevant content are easy to prevent.

As opposed to your local networking groups, such as Meetups, slack communities defy geographical borders and don't demand physical presence, thus offering up the entire world of ideas and connections.

The type of crowd you will find on Slack is different, too. Early Slack adopters tend to be more tech savvy, collaborative and on the cutting edge of innovation.

Slack communities are more private, narrowly specialized, intimate and informal than LinkedIn groups.

Last but not least, Slack app offers amazing user experience. It's easier and more fun to use than any other networking or messaging software.
What is Shopperati?
Shopperati is a slack community for shopper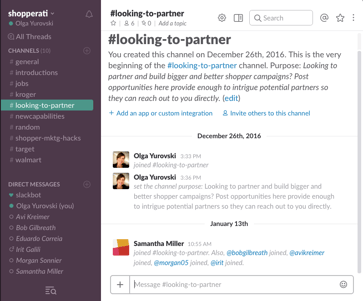 marketing professionals. Our mission is to offer a modern-day platform for current and future leaders in CPG and Retail marketing space to come together and do business.
Shopperati was started by the CPG industry veterans who are currently navigating the technology startup world and saw an untapped opportunity to break down silos, start new conversations, and build unprecedented partnerships.
It is not a secret that the world of shopper marketing will change dramatically in the next decade, and we look to collaborate with the innovative thinkers who will shape that future.
Who should join
Shopperati Society is for marketing practitioners across CPG and Retail industries. We do not screen for titles and let both the executives and the rank-and-file professionals join and contribute, because we believe good ideas come from everywhere.
Most of our users today are based in the US, but since shopper marketing discipline is practiced globally, all countries and continents are invited to join. Marketing agencies specializing in shopper marketing, as well as media vendors, data and analytics services providers will be a welcome addition, too.
How to request access
If you believe you or your colleagues would add value to the Shopperati Society on Slack, you can fill out a simple application form. We manually screen applications and typically respond within a week. We look forward to seeing you join us!