Before every P2P Summit or P2P Expo, we publish a word cloud that visualizes their agendas' top keywords. Check out what's trending for the upcoming P2P Summit that is scheduled to kick off in Ft. Lauderdale less than two weeks from today!
Methodology
We took P2P Summit's agenda, removed all proper names and obvious words like "Shopper", "Marketing", "Brand", "Retail", "Consumer", "New" that would have dwarfed the rest, dropped them into a word cloud generator, and... voila! The size of the word is proportionate to the frequency with which it appears on the agenda this year.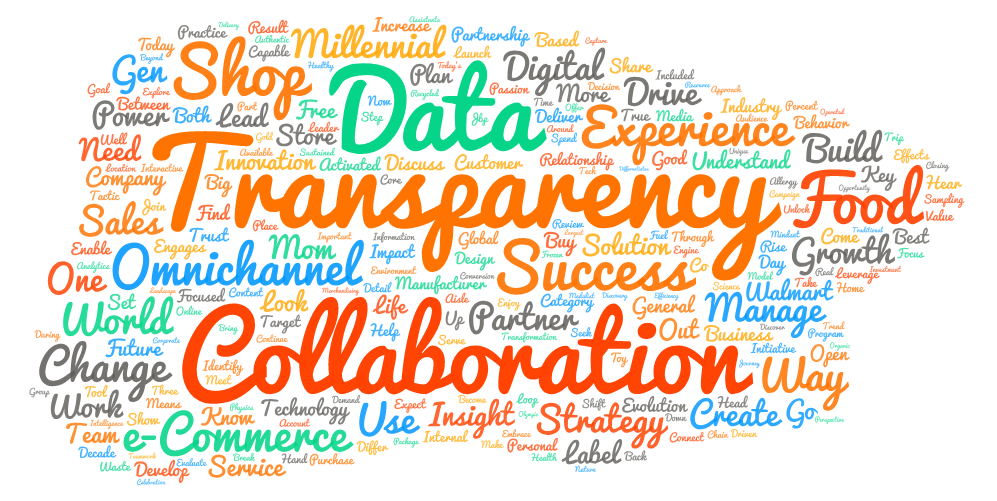 What's Trending Up?
This year's Summit has three main tracks: "Omnichannel Experience", "Collaboration" and "Transparency", so the fact that these three topics rose to the top is not surprising. First two topics have been trending in the industry for a while now, however, Transparency became a "hot commodity" last year. Partially due to GDPR implementation, but also due to big changes in the digital media industry and overall society's increased skepticism and demand for transparency in today's world of "alternative facts" and "fake news".
"Data", however, is mentioned nearly as often, and this keyword was seen throughout the agenda in every track. Our today's fascination with the promise of big data, marketing technology and advanced analytics manifested itself in this year's agenda.
What's Trending Down?
Several keywords were mentioned a lot less often than in the past. For instance, "Digital" is no longer a cool word and has gone so mainstream that it's now assumed and not uttered out loud.
"Insight" - the word was barely mentioned this time, perhaps because it also has been over-used in the last decade? Doest this mean that shopper insights are losing importance or simply that they have been successfully integrated in marketers' thought process that no longer require proactive "thought leadership" to promote?
What do you think of all these keywords? Will you be at the conference this month? If so, leave a comment below and let's compare notes!


Other Posts You May Like: