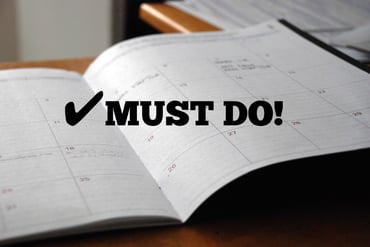 Are you a newly minted college grad just starting your first job as a Shopper Marketer?
Perhaps you're an experienced sales or marketing professional who has just been appointed to run shopper marketing programs – but you have only tangential exposure to this discipline?
Or maybe you are a shopper marketing leader who has interns or young associates on the team and wishes there were a no-nonsense on-boarding plan?

No worries! This checklist will equip you with the practical tools and strategies to master that learning curve in no time! Make sure to check off as many as you can in your first 90 days to fully immerse yourself in the domain and close important gaps in your understanding of the industry:
1. Understand retail fiscal year calendars
As if on purpose, they are guaranteed to be different from your internal fiscal year calendar. Many retailers begin their fiscal year in February (here is an explanation of why it happens), some in August, and some have 13 periods instead of 12. Confusing? Welcome to retail planning. Learning now how to translate retail periods into calendar months and into your company periods will save you headaches and hassle later. The learning curve can be frustrating, so invest some time to practice this valuable skill early on.
2. Learn the retailer language
Yes, they all speak different "languages" when you consider internal slang, abbreviations, metrics, data sources and analytics jargon. While analytics may not be your strength or core responsibility, knowing what data exists and what business questions it can answer will distinguish you from other marketers and give you a reputation of a data-driven, thoughtful professional. So go ahead and sign up for that POS (Point-of-sale) data and shopper analytics training.
3. Download your retail customer mobile apps
Many retailers have published one or even several apps to stay connected with the shoppers who are always on the go and don't like clipping traditional coupons or check the paper ad. A strong grounding in mobile strategy will help you stay on top of their latest capabilities and see how your brand strategy fits in.
4. Sign up for loyalty programs
If your retail customer has a Loyalty Card, sign up and use it regularly. How retailers treat their loyal shoppers tells a lot about their go-to-market strategy. Pay attention to how the retailer communicates with you as a shopper. Do they understand you and your lifestyle enough to enable personalized offers and suggest relevant services?
5. Meet key vendors
Schedule meeting with the key marketing vendors who activate your brand across the Path 2 Purchase. The goal is to learn about their capabilities and understand how they can help you leverage your brand's assets and equity in the context of your retail customer environment. Among others, make sure you meet with retailer's preferred partners, if such exist. An efficient way to do get this done is to send a mini-RFI (Request for Information) asking vendor reps to come prepared with specific information to help you get the most relevant and structured information. Knowing what is possible, how fast it can be done, and at what cost equips you with the key tactical knowledge that you will use again and again.
6. Buy a Sunday newspaper
Yes, they still exist! Look at your retail client's circular ads. Study the content and observe the style, the structure and the messaging, then look for ways your brands can become relevant in the context of the ad. Other things to look for in a Sunday paper is your competitors' or complementary products activity. Their ads can inspire interesting ideas for future partnership.
7. Get invited to retailer's vendor conference
Most retailers reach out to their brand manufacturing partner community and run annual conferences to share their strategic message. But getting an invitation may not be easy – some companies must limit participation. Make a case for your management to send you there in your first year on the job to get you grounded in strategy, understand the big picture and meet all the key players who will likely be presenting. Going forward, you will be well immersed into the community and hear the messages through your network well before they are formally announced from a big stage.
8. Subscribe to Shopper Marketing Magazine
This monthly publication is the single most valuable source of industry information and news. Order either a paper version or their digital edition to save trees. Countless case studies, key industry appointment announcements and new capabilities can give you valuable insights and open new opportunities.
9. Attend Path 2 Purchase Expo or Summit
Build your network. Shopper Marketers thrive on a solid network, so pack your bag, get out there and bond with the industry leaders. Attending the Expo or the Summit, gets you an uplifting experience: listen to inspiring keynote speakers, meet retailers and fellow shopper marketers, interact with solutions providers on the exhibition floor, and learn best practices during the breakout sessions.
10. Meet your local shopper marketing community
Fellow Shopper Marketers whose brands are sold within the same stores are a great learning resource. And if your products are complementary, building such relationships can be beneficial for all parties involved. Shoppers get more complete solutions, and your team can stretch budget farther by sharing cost in co-promotions. A good way to start is to organize a Meetup or a networking lunch and invite the local Shopper Marketing community. Consider meeting at a local startup incubators, such as Chicago's 1871 or Cincinnati's Cintrifuse, where you can combine networking with exploring latest technologies and capabilities.
OTHER POSTS YOU MAY LIKE: