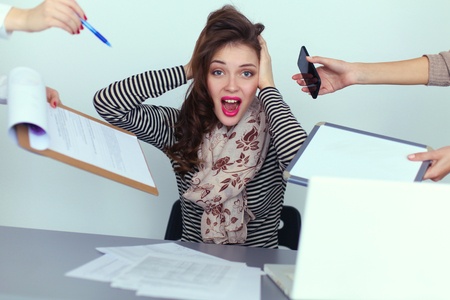 Shopper marketers often receive little recognition because they work in remote field sales office locations and get a lot of things done quietly and with relatively limited resources. Shopper marketing job is dynamic and fun but is often stressful and thankless. To better understand shopper marketers' plight, it's important to examine the root causes of their stress.
In many ways, the problems of shopper marketers are typical for any marketing function in the CPG industry, however, many of these problems are more acute and profound due to the disruptive nature of their work and the fast-paced environment they operate in.
1. Matrix complexity
We operate in the confines of large, sophisticated organizations, with vast product portfolios and many subject-matter experts. Where an SMB (small or medium-sized business) requires one or two touches to approve and execute a marketing strategy, in the CPG space we have committees, review boards, dotted-line relationships and RACI charts. Unlike brand or center-based marketing teams whose main accountability is to consumers and shareholders, shopper marketers have additional constituents – namely, sales teams and retail customers – who exert tremendous influence on their work. These constituents bring additional layers of complexity in the form of trade promotions and merchandising execution that need to be creatively and profitably layered on top of the shopper marketing execution.
2. Constant re-planning
Buried in the annals of SharePoint, scattered on individual hard drives, housed in disconnected systems and filed away in email folders are the valuable data points that we need to do our jobs well. Shopperations' research demonstrates that 95% of CPG marketers use Excel, PowerPoint and email as primary means of communications. Lack of real-time data puts pressure on the team to constantly update management and represents a significant productivity drain. Adding insult to injury is the fact that retail customers don't always share their promotional plans and make very frequent changes to respond to the maket conditions. This means that shopper marketers' existence is defined by continuous re-planning and on-the-fly adjustments, and the idea of "Annual Operating Planning" that has a start and stop date is a fiction to them.
3. Lack of standardization
Shopper marketing is successful when the team is empowered to make quick decisions and build joint business plans with customers. This flexibility and independence has a dark side when field shopper teams design their own tracking systems to stay organized and simply get things done instead of using centralized planning solutions, if such systems even exist. As a result, we observe inconsistent nomenclature, discrepancies in metrics, and proliferations of "middleware spreadsheets" to help connect the disconnected data, which create further stress, confusion and frustration. We see various attempts to standardize shopper marketing planning process and align more closely with sales, which often involve modification to the existing trade promotion management systems. While well-intended, these efforts don't bring much relief to shopper marketers because the TPM systems are never build with their needs in mind and quickly become "yet another place to manually enter data into".
4. Lack of automation
In the CPG space, reporting still is considered a major marketing responsibility. Shopper marketers manually sift through disconnected files, then copy, paste, reconcile, format, save, attach, download, upload, decipher and respond to email requests for data. While it sounds like a minor nuisance, these tasks add up. Our research shows that shopper marketers spend on average 49% of their time on non-core, back-office activities. To ease this pain, tracking and reporting often gets delegated to the agency who, in turn, solves it by hiring more junior account personnel. While relatively easy to implement, this "expanded headcount" approach is costly for both agencies and clients and not easily scalable.
5. Vast scope
Shopper marketers manage entire product portfolios, get funding from variety of internal sources, and implement dozens or even hundreds of promotions a year, making it hard to keep budgets straight. Shopper marketing, when done well, is by definition complex because it's tasked with developing complete shopper solutions, leveraging scale of the company portfolio and engaging shoppers across the entire path to purchase. Where headquarter marketers tend to specialize in PR, digital and social, or traditional print media, shopper marketers' strength is in being holistic marketing practitioners. This requires not only time to learn and stay current on all marketing niches but also ability to see big picture, prioritize resources and tremendous discipline to stay organized to execute and analyze effectiveness of myriad of shopper touch points.
6. Short tenures
Shopper marketing positions are often characterized as "developmental" or "rotational" assignments, upon completion of which the employees move on to classic brand marketing roles. While this practice is respected because it gives retail customer exposure to more folks in the HQ, the side effect of it is short tenures, high turnover, loss of organizational knowledge and low productivity due to on- and off-boarding.
While some of the above factors are "built-in" complexities that we can do little about, most can be mitigated by thoughtful process design, careful prioritization and by leveraging modern collaboration technology. Subscribe to our blog to learn about the 21st century shopper marketing operations and collaboration solutions.
OTHER POSTS YOU MAY LIKE: