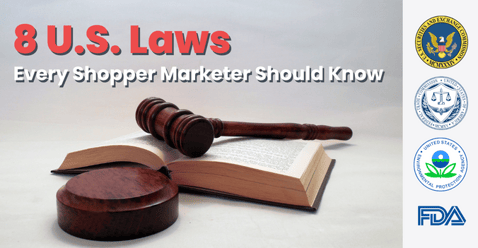 There has always been tension between Marketing and Legal. Working with corporate lawyers can be frustrating. They seem to say no to so many of our great ideas; they poke holes in our creative and copy; they scrutinize our packaging design and promotional plans. To help you appreciate where your lawyers are coming from, I decided to recap the most important legal frameworks that guide CPG shopper marketing work.
Most of the legal frameworks that CPG shopper marketing is subject to aim to protect consumers and ensure fair competition. Here are the most important ones that you might have heard of:
1. Federal Trade Commission Act (FTC Act) is a federal law that prohibits unfair or deceptive practices in commerce. It gives the Federal Trade Commission (FTC) the power to investigate and prosecute businesses that engage in false or misleading advertising.
2. Lanham Act is a federal law that governs trademarks, service marks, and unfair competition. It prohibits false or misleading advertising that is likely to deceive consumers about the nature, characteristics, qualities, or origin of goods or services.
3. Food, Drug, and Cosmetic Act (FDCA) is a federal law that regulates the safety and labeling of food, drugs, and cosmetics. It requires that these products be safe, properly labeled, and marketed truthfully and not misbranded.

4. Fair Packaging and Labeling Act (FPLA) is a federal law that requires all consumer products in interstate commerce to be labeled with the correct contents, identity of the product, and the name and address of the manufacturer, packer, or distributor.
5. Children's Online Privacy Protection Act (COPPA) is a federal law that requires operators of websites or online services that are directed at children under 13 to obtain parental consent before collecting personal information from children.
6. CAN-SPAM Act is a federal law that governs commercial email messages. It requires that all commercial emails contain accurate header and subject lines, identify themselves as an advertisement, and provide a way for recipients to opt-out of future emails.

State laws: Many states have their own consumer protection laws that regulate advertising, labeling, and other marketing practices. For example, some states prohibit certain types of advertising to children, restrict the use of certain ingredients in consumer products, or require certain labeling disclosures.

Aside from consumer protection laws, the United States has federal regulations that protect investors, employees, and retail customers. These laws affect many accounting and marketing practices in the CPG industry:
7. The Sarbanes-Oxley Act (SOX) is a federal law that was passed in response to corporate accounting scandals. It sets standards for public company boards, management, and public accounting firms. SOX has provisions that affect CPG marketing, including requirements for accurate financial reporting, internal controls, and penalties for corporate fraud.
This is the reason why your finance and accounting counterparts want accurate reporting and proper coding of various kinds of marketing expenses. In addition, most public companies require that marketers document proof of performance for the marketing services they buy.
8. The Robinson-Patman Act is a federal law that regulates price discrimination. It prohibits companies from charging different prices to different buyers for the same product if the price difference results in competitive injury. While the Robinson-Patman Act primarily aims to protect smaller customers from price discrimination or unfair pricing practices, customer marketing spend is considered to be part of trade and pricing strategy, therefore, it's also subject to the Robinson-Patman Act.
Most CPGs pay close attention to ensuring that similar customer-specific shopper marketing opportunities are offered to all retail customers. Being able to accurately track and report customer-level marketing investments will prepare and protect you and your team in case of an audit, regardless whether you report up to Sales or Marketing.


In addition to the above laws, some CPG industry sectors are subject to category-specific legislation. For example, tobacco product manufacturers must comply with the Family Smoking Prevention and Tobacco Control Act (FSPTCA), while Household Products producers are subject to the Federal Insecticide, Fungicide, and Rodenticide Act (FIFRA), the Toxic Substances Control Act (TSCA), and other federal and state regulations.
As a marketer, knowing the key pieces of legislation that affect your industry is really helpful in order to make your conversations with Legal more productive. When you understand and anticipate the concerns that lawyers have and the risks they attempt to mitigate, their feedback is easier to receive.
What legislation is top of mind for you and your team? Would you like me to do a deeper dive into any of them in future posts? Share in the comments or drop me a line at olga@shopperations.com.
Other Posts You May Like