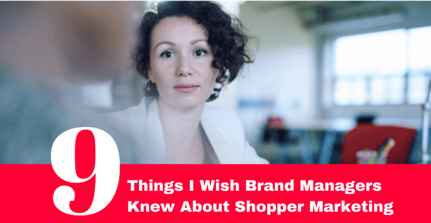 In my 15-plus years in CPG marketing, I had a chance to work in both HQ-based brand marketing teams and field-based shopper marketing teams. These teams often work hand-in-hand, but the contrast in their approaches and worldviews can sometimes be striking. It causes misunderstanding and confusion that needs to be constantly cleared up.
In the past, we talked about how the lack of transparency and communication coming from the field have caused organizational misunderstanding for shopper marketers. But, to have a dialogue, you have to have someone who is willing to listen. So, today's post is dedicated to hard working shopper marketers and their partners, empathetic and curious brand leaders who seek to better understand the shopper marketing challenges and perspectives, and who want to look at their business through the lens of retail.
We interviewed several shopper marketing leaders and asked what they wish brand teams knew about the shopper marketing world to create a more productive dialogue. Here is what came up.
I wish brands knew:
1. Shopper Marketing is neither a "coupon" nor an "in-store tactic."
If you only talk to shopper marketers when you need to execute a coupon machine or publish a digital coupon on retailer's site, you are under-leveraging our talent and the tremendous amount of customer insight we possess. Shopper marketing done right is a savvy go-to-market strategy that builds the entire brand activation plan with success in retail in mind. You may have the best positioning statement, the strongest features and benefits, the most awesome advertising campaign that tugs on all the emotional strings, but if you can't get your retail partners behind your brand to stock, display and promote your products, the bulk of your national media dollars will be wasted. Shopper Marketing is so much more than just in-store. Most of our retail customers are savvy omni-channel marketers who expect brands to support (i.e. fund) their shopper communications along the entire path-to-purchase.
2. Retail promotional planning lead times are a lot longer than you think.
It's amazing how often and how consistently this theme came up. It takes a loooong time from idea to execution in retail. And the larger the retail account, the longer the planning cycles. Depending on the category, your sales and shopper marketing teams may be in front of your retail customers 6, 9 or even 12 months in advance to present their initial fiscal year plans. So if your brand annual planning process starts 6 months prior to next fiscal year's start, you have already missed out on engaging your largest customers in the co-creation process. Do you know what shopper marketing teams do in the absence of the signal from the headquarters? They "lean in" and make assumptions about how much will stay the same in brand plans year-over-year. That results in 'safe bets' and lack of radical marketing innovation because of unconfirmed funding. Doing more of the same is a recipe for disaster, and the only way to avoid it is to start planning way sooner.
3. Lead times for new product introductions are even longer.
If you want to launch new products effectively, join your sales and shopper marketing team and to talk to your retail customers before you spend any funds on R&D. Retailers want to talk to your product development teams 2-3 years before in-market dates to align on trends and target shopper segments, discuss potential product location and make sure they are ready to accommodate your innovation within their stores. Products that had retailer input early on enjoy quicker sell-in and faster distribution gains. So, being too protective of your product pipeline may not be such a good idea.
4. You Must be realistic as to what shopper marketing can accomplish and what reasonable spend thresholds are.
In other words, don't come to me with $18,000 to activate your brand at Walmart. Don't think that a two-week digital coupon campaign will solve your quarterly volume gap. Successful shopper marketing campaigns take a lot of research and coordination and carry a serious price tag. In order to get a strong ROI, retailer buy-in is a must. Without feature and display commitment the investment in a stand-alone shopper tactic won't even be a blip on the sales radar. And to get a large retailer to sit down with you for a planning session and consider incremental merchandising commitment, you need to invest a lot more than $18,000.
5. Your brand POD and RTB will not be the focus of shopper campaigns.
And that's by design. While your national advertising campaigns work hard to establish brand equity and promote brand awareness and consideration, shopper marketing has a different "job to be done." Shopper marketing often times is about conversion, or making it easy to put your brand on the shopping list or into the basket. We have 3 to 7 seconds to impact a purchase decision, so we focus on appetite appeal to break through the clutter, strong call-to-action to simplify the decision, and time-sensitive offers to create a sense of urgency. In addition, shopper marketing campaigns often include a wide array of complementary products, so the focus of the communication is about shopper solution (for instance, saving time or money), not the individual brands' strengths.
6. Shopper marketers have a very complex stakeholder network
,
...and managing it is a miracle we perform every day. Unlike brand marketers who typically act as an internal client, shopper marketers have many internal and external clients to please. Insights, Brand, Sales, Legal, Finance, Analytics, Customer's Merchandising and Marketing teams - all of who have a say in what we do. Not all of them can be pleased, and it's stressful at times, but the best among us know how to build consensus despite conflicting agendas, and how to move things along.
7. The look and feel of your POS materials are often not up to debate.
Some brand managers don't realize how much retailers care what your POS materials look like. The style guides some retailers publish have very little room for branding, so, don't get distressed when I tell you that I can't change the pallet header background color, even if it looks dangerously close to your competitor's brand color.
8. Cutting Budget from a shopper marketing program may have serious consequences
.
If the program has already been presented and sold in, it has merchandising commitments behind it, and your brand's volume bridge to deliver quarterly results will be impacted. But it's not just volume that can be hurt. Our reputation as brand vendor partners is on the line, too. Before you 'pull' those dollars, please contact us to make sure the trust with retail partners is not broken.
9. Your largest customers are not always your best shopper marketing partners.
If you want to "fair share" your shopper marketing investment based on share of sales in each account, you may find out that the largest customers are least inclined to partner with vendors, and most of your shopper marketing budget could be directed to price discounting as a result. Smaller, regional customers like Meijer, ShopRite or Ahold may be more receptive to brands' ideas and should receive more than their "fair share" of attention and resources.
Did we miss any important points? If you could send a message to your other internal stakeholders, what wisdom would you impart to make your team's jobs easier and more fulfilling?