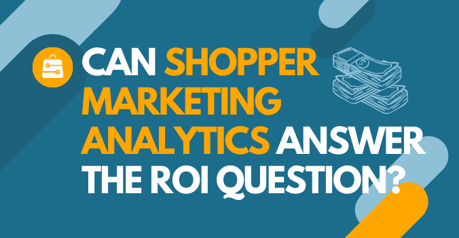 Like most shopper marketers, you are working hard to create the best plans with the budget that you have that satisfy your brand team expectations and drive sales at your retailers making your sales team happy. Don't forget about how you are also managing your agency partner while at the same time reconciling your executed spend and replanning events that have been cancelled or added to your programs.
One question grinds everything to a halt: "What's the ROI on our shopper marketing spend?"

Of course you want to know the return on your shopper marketing investment. Of course you want to optimize how and where these dollars are spent. Of course you look to your sales team using fancy TPM (Trade Promotion Management) and TPO (Trade Promotion Optimization) solutions with advanced analytics and AI capabilities and say, "But what about me?"
It's just not that simple.
"At no other time in my career have I seen so much information available to data mine. Yet the challenge remains to connect the data nuggets that have the greatest relevance to each of our retailer partners and our business," says Susan Lambert, Director, Shopper Marketing & Customer Insights, Massimo Zanetti Beverage USA in an interview with Path-to-Purchase IQ.
ANALYTICAL ANGST
Much of the apprehension that exists around analytics ties directly to the challenge of connecting data to RELEVANT insight as Lambert states.
Why is this a problem for many CPGs?
Unclear expectations
For many CPG leaders, shopper marketing is a black box in terms of spending. Programs are fragmented and complex. Getting information about them is difficult. Attribution to sales lift is inconsistent.

As a result, when CPG leaders ask about ROI of shopper marketing often they are asking for a better understanding of spending and impact, not $$$ ROI.


A Variety of Measurements
Because shopper marketing serves many purposes, the KPIs used to define success are often varied. While post-promo analysis is a core component of understanding the value of shopper marketing, shopper marketers also need to understand and communicate the analytics of their day to day work.

This can include analysis of # of programs/person on team, # of programs / retailer, # of impressions/program, etc.

"But despite a generally accepted understanding of its ability to drive sales, strengthen shopper engagement and even build brands, there is still no industry-wide standard for measuring shopper marketing's effectiveness and, therefore, proving its value in relation to other areas of the marketing mix," states Path-to-Purchase IQ Editor in Chief, Peter Breen, in an announcement about for an "Institute Commission to Develop Standards for Shopper Marketing Measurement"

Doing so sheds light on the magnitude of influence shopper marketing has with often minimal personnel and budget.


Access to and Application of Data
To have a serious, repeatable conversation about marketing analytics, you need to have a strong data framework and processes. Unfortunately, in most CPGs, immature data structures guided by disparate and spreadsheets lead to difficulty extracting the "relevant" information for leadership and cross-functional stakeholders.

It is no wonder that shopper marketers hear whispers of shopper marketing and analytics that panic sets in. They are constantly recreating reports, rerunning numbers, and reassessing budget every time there is a new question.
HOW TO EMBRACE ANALYTICS
Chances are that apprehension surrounding integrating analytics into shopper marketing is not because you do not want to understand the effectiveness of promotional programs. Instead, shopper marketers express concern about a lack of understanding of shopper marketing's role in the organization.
"Analytics is a big pain point for us, but people are focused on marketing mix and holistic measurement. There is more to what we do that marketing mix," says one Marketing Director leading shopper marketing at a large multi-brand manufacturer.
Before any CPG can be successful including standardized analytics and data-driven marketing planning into their shopper marketing teams they first must:
Define the questions that the organization wants analytics to help answer.


Centralize and standardize the planning, budgeting, management and organization of shopper marketing within the organization.


Adopt process and tools that enable the consistent analysis and reporting of shopper marketing programs at a variety of hierarchies within the organization - program level, brand level, retailer level, etc.


Make the reports transparent and easily accessible to all relevant stakeholders.
DON'T WAIT FOR CHANGE
The inclusion of analytics in shopper marketing is inevitable and something that should be encouraged by shopper marketers. However, shopper marketing analytics is not the same as analytics in other areas of the business.
If shopper marketers are not part of or leading the charge when the analytics discussion starts, they will be forced to meld their practices to fit other business area definitions of success. This not only will create greater obstacles for shopper marketers who will be measured by benchmarks not consistent with their work, but also not position the business to optimize the budgeting and performance of shopper marketing programs.
A shopper marketing solution, like Shopperations, positions shopper marketers to create the best-practice driven foundation for shopper marketing excellence so expanding into analytics is both possible and successful.
Interested in learning more about shopper marketing analytics? Check out our Marketing Analytics Benchmark Study and schedule some time to talk about the expectations and goals your organization has for adopting analytics.
Other Posts You May Like: