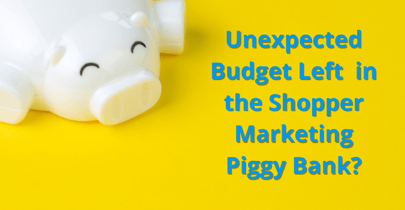 Regardless if the COVID pandemic meant you couldn't keep your product on the shelves or you quickly had to readjust your projections, shopper marketing programs overwhelmingly were paused or cancelled in the last 6 months. For many shopper marketers this means they are in the unfamiliar position of being underspent on their marketing budgets.
"We want to get in shoppers' carts now. Not 6 months from now," says a Customer Development Manager leading shopper marketing for a national food manufacturer.
While it may seem like your options are limited by time and availability of new programs this late in the year, the urgency to attract new shoppers continues to grow. This is why I tend to look for a silver lining in this situation and hereby offer six ideas for how to invest your unused shopper marketing funds with purpose, and do it FAST!
1. LOOK FOR TACTICS THAT ARE QUICK TO EXECUTE
While traditional print, direct mail and in-store marketing channels require long-term planning, the sudden explosion of digital and e-commerce channels due to COVID-19 provide vast possibilities to invest unused funds in a quick, targeted, and efficient way. You may have intended to test new digital tactics all year long but never had bandwidth or budget to give them proper consideration. Now is the time! Thankfully, most of the digital tactics have a templetized and streamlined set up process, and often have self-service ordering platforms that take just a few days or even hours, to set up, especially if you have all your assets ready to go.

So, how do you search for the new tactics out there? Vendorstan is your first stop to understand the variety of options available to you. This is a brand new platform for CPG marketers, a directory of tactics and vendors that can be browsed, searched or filtered by targeting capabilities, retail customer, brand objective and more. Check out the "Lead Time" filter option to find tactics that you can turnaround before the end of your fiscal year! Below are some examples of tactic that can be found on Vendorstan.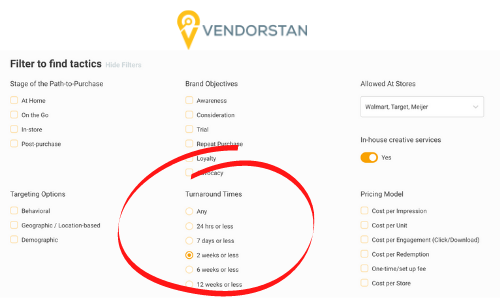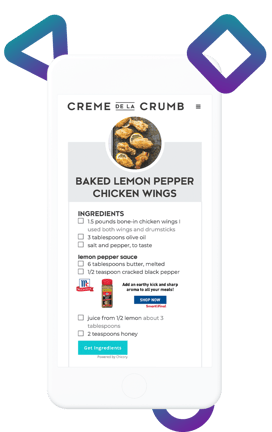 Chicory McCormick Recipe Ad
Shopping Apps like iBotta

guide shopping experience and offer brand engagement opportunities and rewards. They require little advance notice and are easy to set up.
Shoppable Recipes like Chicory Premium allows brands advertise in an extra-relevant contextual way as shoppers engage with them as they plan their recipes.
Moble Ads

l

ike Gimbal Media: Geo-target shoppers around your retail client stores and drive holiday traffic to give your brands a sales boost to finish the year strong.
Quick Turnaround Direct Mail like Mspark Quick Response postcard. They can

either be set up as a monthly, life event trigger-based marketing vehicle (new movers, weddings, births, etc.) or as a fast-to-market product based on a company's needs (grand openings, events, or other changes).
2. Create Or Inspire AWESOME content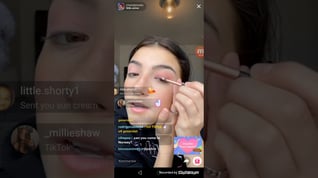 Charlie D'Amelio sharing makeup tips with her 144 million followers.
Relevant, engaging and shareable lifestyle content is the most efficient way to break through and grab shoppers' attention in the cluttered, noisy marketplace. According to "Shopper Marketing Trends in 2020" from P2PIQ, "Building shoppability into social media and influencer content essentially creates more affordable shopper marketing solutions for emerging brands while hyper-targeting to what often are niche audiences,"
Web Content Partners: Meet the folks at lifestyle websites like Breaktime Media. They are pros at generating engaging shopper content. Breakime is our favorite because of the really cool way they engage shoppers with gamified content. Keep in mind that digital lifestyle content works best in conjunction with digital coupon offers.
User-Generated Content: Leverage the power of social media to inspire your consumers and shoppers to talk about your brands. They will be happy to share usage tips, new usage occasions, recipes and personal stories that bring your brands to life in an authentic, engaging way. Here is a great article with case studies of how CPG brands do it successfully.
3. Invest in Education
4. Thank your customers, team and agency
Create a unique digital promo code for your products that can be redeemed at your retail customer's e-commerce website and give it to all clients and partners, instead of traditional holiday greeting cards, paper coupon booklets or sending physical products.


5. Procure New technology & tools
Build your team's collaboration and planning muscle and crush the internal silos by investing in Shopperations marketing process automation software.
Build a tech stack that will serve as a foundation for your e-commerce capabilities. These include Product Information Management (PIM), Digital Asset Management (DAM) systems, Ratings & Reviews platforms and more. Check out Profitero's White Paper where they dive into this topic in-depth.
If you haven't invested in a smart speaker yet, finally buy one! It will give you a taste of the future and help you experience the way they influence the shopping process first hand. The latest version Amazon Echo 4th Generation is coming out this week.
6. Plan for business growth
In year's past, we would recommend booking a venue for an offsite team and agency meeting to get the creative juices going, this year these type of meeting might be better left to Zoom. Instead, look for ways that you can advance the impact of shopper marketing in your organization. One option is to start the journey to be more data and analytically driven. Take a look at the Shopperations Marketing Analytics Study to see how you stack up.


What are your favorite ways to activate shopper promotions on a quick notice? How do you invest in your team's capabilities and continuous improvement?
Other Posts You May Like