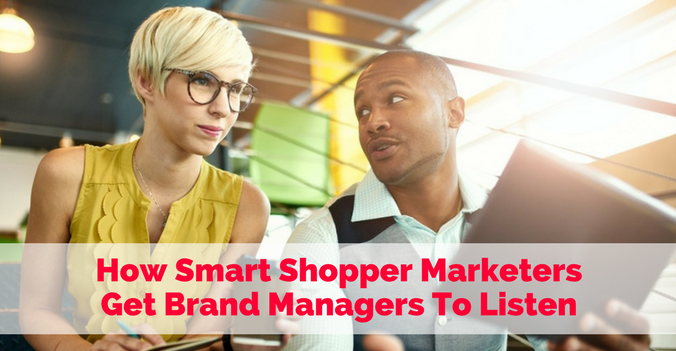 One client recently asked, "What do you do with those brand managers who don't understand the value of shopper marketing and micromanage my shopper marketing team?" This is not a one-time occurrence, but rather a consistent pattern we observe across the industry.
As P&L owners, brand managers have the right to know how the shopper marketing programs they fund are performing and why you make certain decisions. However, there is a big difference in providing strategic guidance and feedback, and telling your team exactly how to achieve their objectives.
Researchers have studied the phenomenon of micromanagement quite a bit and came to several conclusions:
Micromanagement is a serious issue that causes employees to become disengaged and leads to tremendous productivity waste.
Micromanagement in most cases is unintentional.
Micromanagers have middle-management anxiety of being disconnected. I experienced it in my personal career, too.
Micromanagers like to stay in the familiar territory, many of them are recently promoted and have a hard time switching from "doer" to "supervisor/coach" role.
So what does it mean for you? Now that you have some insight into why people micromanage, let's look at the problem with an empathetic eye and try to help the micromanaging brand manager loosen up and trust you more.
1. Teach them something they don't know
Your teams are experts in their retail customers' marketing strategies. And your retail customers constantly evolve and develop new marketing capabilities. Share this insight with the brand manager since it may impact their strategy and tactics they use regionally or nationally or maybe it's just interesting knowledge for them to have about the industry. The brand team can
benefit from knowing
that retailer lead times are pretty long or about how low spend thresholds may not be enough to move the needle. The more they know, the better they can help you out if need be. Even if it's as simple and providing you more lead time on on new product introductions.
2. Be proactive
Feed ideas into their planning process without being asked or waiting for them to finish up their AOP. Develop short pieces of crucial, "Must Know" content to inform the AOP early stages. Some
key reports
or information the brand team may benefit from include, shopper marketing spend, ROI by brand/program, and historic sales data. Whether they use all the information and data you provide or not, they will appreciate the effort you put in to assist them with their plans — it makes their life easier. And they will feel as if they have authority over what tactics they should include. They may even want to couple your specific retailer program with a larger national campaign or see areas on which to provide you with additional support. Either way, it's a win-win situation.

3. Be transparent and open
Share your plans and results consistently, without being asked. Create a cadence for shopper marketing review with the brand teams and show them how your shopper marketing plans evolve, take shape and support their strategic objectives. This will help reduce the number of times they email you asking what your team is working on or knock on your office door wanting an update before meetings with senior leadership or their creative agencies. Since they are looped in on your process from the start,
they won't question
why you are making certain decisions or ask why funding for a particular program is necessary. And they will hopefully reciprocate and be more transparent and open with you about their plans, which benefits your team in the long run. This transparency also allows them to have deep knowledge about your plans and results, so that if they need to speak to the success of your team, they will be able to adequately do so.

4. Define the scope of brands' engagement
Admit you need brand input, but be specific in what areas, when, and in what format. Have a solid foundation of key documents to help your team align their programs against brand strategies and goals. Such as, brand strategy decks, positioning statements, target segments description, key SKUs, and latest brand assets are all extremely important to enable proper alignment of consumer and shopper communications. Create an avenue for brands to set expectations, provide input into on-going work, and stay connected. One company I worked with created a standing meeting where brand and HQ marketing teams were summoned to provide guidance to shopper teams that were either writing strategy briefs or reviewing creative and tactical plans. The feedback that was given was meant as guidance, rather than approval. Fields teams often found out that they were featuring wrong SKUs, or using outdated logos. The atmosphere was very friendly and there was a sense that "they were all in it together" to ensure the success of the brands.

5. Share your success stories and industry best practices
Not every brand manager gets a chance to visit stores or attend shopper marketing industry events. Most of them are oblivious about your team's work. Take action to inform brand managers and give your team credit for great wins with retail customers. Have you helped secure incremental feature and display for a program that was meant to be purely digital execution of a national promotion? Illustrate the sales lift and how the program came to life in your customers' stores. It doesn't need to be an extensive PowerPoint presentation, but simple monthly or even quarterly newsletters with a few key facts and illustrations will go a long way in building your team's gravitas and reputation.
No matter how tedious it may be to constantly inform and engage your brand managers of your team's shopper marketing tasks and achievements, it's essential to the success of the business. The brand managers will not only listen to what you have to say, they will also value your input and turn to you for execution guidance. At the end of the day, whether you're part of the brand team or the shopper team, your goal is to ensure the brands are supported and sales are booming. That can't happen without constant communication and teamwork.
And this way, you're the one holding the control in this situation since you're displaying leadership, providing insight, and sharing your team's success before the brand manager has the chance to even think about micromanaging.