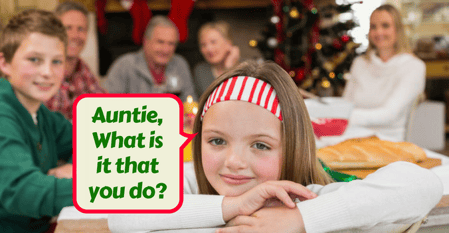 Let's face it, when you tell people your profession you often get blank stares followed by the question, "what does a shopper marketer do exactly?"
You take a deep breath and give your spiel. When you are finished, the person who asked pretends as if they know what you do and you end up answering a hundred follow-up questions:
"Yes, it's a facet of marketing, but it's different."
"No, it's not like advertising."
"Yes, companies actually pay for that in-store signage."
"Yes, the job is more than just coupons."
Each shopper marketer has their own way of describing to people what they do in layman's terms. Especially with the holidays right around the corner, you know your family and friends will ask you about your job.
So it is best to prepare for that dreaded question now. Lucky for you, we have you covered. We can help our family and friends understand what we do in a simple way. Here are some suggestions for when you are met with blank stares after you tell them your job title.
So here is what you could say to your...
Ten year-old niece Nora — "I help shoppers like your mom and dad make a decision about what products to buy. I help create fun things like food demos, where you get to eat the yummy snacks while shopping, or a display that has lots of colors and fun pictures. That way, they will be excited to buy a specific product over one we do not want them to buy."
Grandma Mary — "I know you clip tons of coupons, grandma. Well, part of my role is to figure out what type of offer we should run on my company's products and when it makes the most sense to offer that coupon and how we should offer it. We often couple that offer with some sort of in-store activity like showcasing our products on an end cap display to get an increase our number of sales."
Uncle Bob — "I'm part of the reason you purchased that particular brand of beer, since I strategically decided to have a coupon offer plus football themed shelf signage at every Kroger store right before the Super Bowl. This clearly grabbed your attention and met your expected needs based on historical shopper insight and data showing an overall sales lift from these tactics year after year. You're welcome."
Friend of a Friend Susan — "I work with the brand team, sales team, and retailers to provide a cohesive branding for our company's product in-store. From the coupon offers or advertisements in the circulars, to the fancy endcap displays, to the shelf or floor graphic signage, my job is to have a shopper purchase my company's product over our competitors'. And since the majority of purchase decisions are made in-store, you can imagine how important my role is."
And here is what you could say if you want to…
Sound cool — One former shopper marketer says, "I always say I'm like a party planner. I organize the type of event, a date to have it, and theme. I have to work with cross-functional groups or different vendors (in the party planning analogy), to create the best event for an audience to enjoy! After the event is over, I need to access from feedback (insights) on how successful the event was."
Sound mysterious — "It's a secret world, a parallel reality that exists without you knowing about it. Shopper marketing is everywhere. Remember that radio commercial about Free Friday download for a candy bar at Kroger? Well, it was people like me who made it happen. We make ads pop on your phone, in your social media feed, in your inbox, even those thick Sunday paper inserts were created and by us, too! That lady in the apron who gives out samples of tasty new foods at your local grocer, she is in on the secret."
Make them laugh — "I'm like Santa but instead of giving out toys, I give out samples and coupons! I even have elves that help me get the message out about the latest deals on your favorite items at the store. Save the milk and cookies for Santa, but you can thank me for the gift of $.49 a pound on your holiday Turkey!"
So the next time you get the question "what do you do?", (whether from your grandma or your niece) simply use one of the above approaches to explaining your job. They'll actually understand what you do, so you don't have to explain it again next year.
Which one of these prompts will you use to describe what you do to your family and friends? How else would you describe what you do in simple terms? Share with us in the comment section!
You may also like these posts: