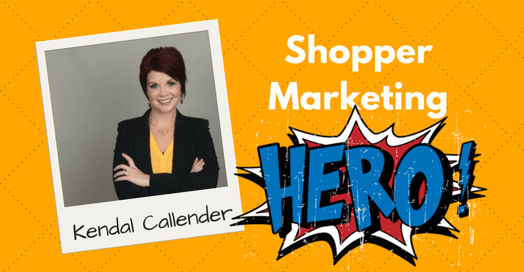 This month, we are starting a new tradition: recognize the best of the best in the shopper marketing trade.
We've recently launched a call for nominations and received an overwhelming response from around the globe. Shopper marketers are generously recognizing and giving credit to their colleagues, partners, suppliers and clients who go above and beyond to advance shopper marketing agenda.
This month's Hero is Kendal Callender, Director of Digital Partnerships and Shopper Innovation at Albertsons Companies, one of the largest supermarket chains in the US.
Kendal was recognized by one of her brand vendor partners who preferred to remain anonymous. They said that Kendal is "...amazing to work with from a CPG perspective on building ideas from the ground up and implementation in store!". I had a chance to meet and collaborate with Kendal, too, and was happy to see that her talent and hard work are being recognized by the broader CPG community.
I reached out to Kendal for quick interview in hopes to learn her secrets of success and to start collecting data on whether there is anything in common that unites all the shopper marketing heroes out there.
OY: When and how did you come to work in shopper marketing?
KC: I started in the industry in 2008 at Advantage Solutions' SMARTeam working in category management and shopper insights.
OY: What skills and experiences, in your opinion, are important to be successful in shopper marketing?
KC: To be successful in shopper marketing you must always be willing to learn new things, enjoy collaborative working relationships, and be able to take fact-based insights into real-time strategy.
OY: What is your shopper marketing "super power"?
KC: Collaboration
OY: What fascinates you about shopper marketing?
KC: I love watching how customers behaviors drive retail strategy in a constantly changing environment.
OY:
What advice do you have for young shopper marketers or those who are interested in a shopper marketing career?
KC: Don't be afraid to raise your hand for opportunities to learn something, especially if it is out of your comfort zone.
OY: What are the most important current trends that will change the way shopper marketers do their jobs?
KC: I think the biggest trend affecting how we operate today is the change to the retail outlet. eCommerce has become mainstream in retail and will continue to change the way shopper marketers do their jobs. The shopper is changing faster than ever before, and it is our role to maintain our relevancy.
Other Posts You May Like: