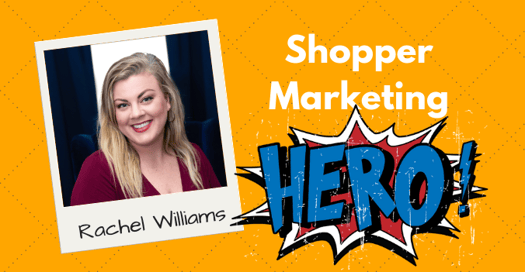 This month, United States celebrates Women's History Month, therefore, I am dedicating March articles to women in Shopper Marketing who are making our industry's history.
Meet our March Shopper Marketing hero:
Rachel Williams,

Account & Media Strategist at Social Forces!
Rachel's colleague, Ari Rothman, nominated her
and said:
"On

a

daily basis, Rachel deftly manages her accounts to develop creative that fits our social

shopper

marketing

strategy, as the first real line of communication in the Path to Purchase. Rachel's understanding of social media platforms, shoppers and retailers has helped lead her insights to actionable campaign and impressive sales results.
"
As soon as I received this submission, I reached out to Rachel for an interview. I wanted to learn more about her shopper marketing journey and perspectives:
OY: When and how did you come to work in shopper marketing?
RW: When I interned at Acosta, a CPG Broker, in 2013, I found a passion for connecting shoppers with brands and retailers. In 2014, I started working full time at Social Forces, a boutique agency that specializes in social-led shopper marketing for national and global CPG brands, specifically in the C-store channel. We are proud to connect consumers with their favorite brands on a daily basis, with the goal to increase sales in store.
OY: What skills and experiences, in your opinion, are important to be successful in shopper marketi
ng?
RW:
Objectivity and empathy are very important.
It is rare as an advertiser, that I am the target consumer, so it's important to be able to look past my personal likes and dislikes and put myself in the shoes of our ideal consumer, to have the ability to look at a project and a product through a different lens
.
OY: What is your shopper marketing "super power"?
RW: I simply care about people in a big way. Eliminating noise is important to me and being able to be a part of which content gets put in front of which group of consumers, based on the interests and passions of that specific group of consumers, is exciting to me. At our agency, we go even a step further and meet the customer where they are to create meaningful interactions - on social media.
OY: What fascinates you about shopper marketing?
RW:
I am fascinated by the way that data science and modern advertising technology allow us to deliver our message to shoppers in the most relevant way. Specifically, I am intrigued by the
psychographic targeting, which helps find groups of shoppers that have already shown certain interests that align well with our message. This kind of targeting lets us create positive experiences for the shoppers and introduce new products or offers to in a friendly, authentic and helpful way. Which, in turn, creates fondness between brand and shoppers and continues to influence their brand affinity.
OY: What advice do you have for young shopper marketers or those who are interested a in shopper marketing career?
RW: Seek different work experiences across the CPG value chain. The CPG industry is complex and nuanced. Understanding how all of the entities work together to bring a product to a shopper is essential. Having the opportunity to work in different areas such as for a broker, for an agency, and a retailer have helped me understand the intricacies of this industry.
OY: In your opinion, what are the most important current trends That will change the way shopper marketers do their jobs?
RW:
Social listening and social media targeting already have made a splash in the marketing world. Traditional advertising and marketing are not as cost efficient or as effective as media that allows us to target a consumer's particular likes or interests. I expect to see more brands put an emphasis on social media as a means to connect with their end consumer.
OY:
Which companies' shopper marketing strategies and initiatives do you admire? Why?
RW:
I appreciate manufacturers that recognize that each retailer is different and has a different shopper base. Hershey and Monster Energy, for example, have unique activations and programs for their top retailers, per channel, and see the value in creating unique co-branded experiences for each retailer's target shopper. I admire their commitment to speaking directly to their target audience and understanding that this target varies from coast-to-coast and store-to-store.
Do you know an unsung hero who always goes above and beyond the call of shopper marketing duty? Always delivers stellar results? Is constantly challenging the status quo and solves problems in unusual ways? Recognize them and let the world know you value their contributions.
Other posts you may like: