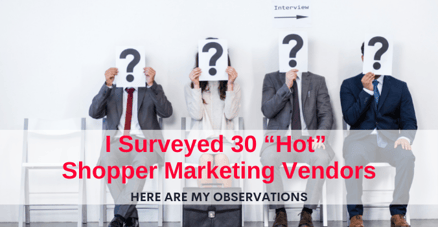 CPGs and their agencies are yearning to learn more about new shopper technologies and vendor capabilities. It may be hard to believe if you are a vendor trying to find the marketing decision makers, but believe me, they are ready to listen.
You just need to find the right words. Recently, one of my Shopper Marketing agency clients shared their challenges of running a business during the pandemic: "During the shutdown, we were heads-down, fully focused on getting work done and surviving with a lean staff. Unfortunately, meetings with vendors slowed down dramatically, and we feel we got behind on marketing innovations and new vendor capabilities in the Shopper Marketing space."
The Assignment:
This agency asked for my help in getting them back up to speed by researching and vetting 'hot' marketing vendors. The process included polling my contacts in the agency and CPG world to see what vendors were:
bringing new capabilities to the market
cost effective (the agency has somewhat limited, regional budgets) and
easy to work with in terms of transparency and service.
My Approach & Observations:
I compiled a short list of questions, including general KPIs, reporting capabilities, minimum program costs, etc. I also asked for input on specific challenges facing the industry and what plans they had in place to address them. As I read the responses that were sent back, I made a few interesting observations that I wanted to share with both vendors and CPG marketers:
How will you address the 'cookieless' future?
This question is on top of everyone's mind lately, and it probably received the most detailed responses of all. From companies that don't rely on cookies to companies that are actively making plans to change their business models, and those who say it won't impact their effectiveness, this is a hot topic in the industry and will impact decisions on providers. A couple of relevant responses:
"

CRM will be crucial for brands to connect with their consumers and understand their purchase behavior PARTICULARLY once a cookie-less environment becomes more prominent."

"Most of our promotion microsites require cookies to engage. However, due to CCPA compliance we will block tracking/monitoring of behavior unless the participant clicks the accept cookie tracking.

"Contextual Targeting provides an equally viable media strategy that we've been validating with multiple brands across markets. Explore how creatives can be personalized according to the content of the page to truly amplify the marketing message. Measure the outcomes and compare it to audience targeting, and then A/B test different contextual targeting solutions from the marketplace."



What is your minimum program cost?
Knowing minimum order size is important for CPG marketers because their budget size varies significantly, and their spend authorization permissions may be insufficient to proceed with the vendor without involving their upper management. Fortunately, most companies did not list a minimum program cost requirement, and nearly all said they were open to smaller 'test and learn' programs. So, if you're a smaller brand, I encourage you to go ahead and reach out to explore a partnership with a provider you are curious about, no matter how big they are.
Provide a short description of your services
I didn't think this would be a difficult question, but wow, we received a lot of convoluted, intense marketing-speak responses that were so difficult to parse through. I would advise all Vendors to work really hard on your elevator pitch -- be concise, clear, and be able to say what's unique about your company.
Describe the shopper path/interaction
Shopper Marketers on the CPG and Agency side often place vendors and their capabilities on their mind map using the Shopper's Path-to-Purchase framework. They tend to combine media tactics from a multitude of vendors to achieve the "surround sound communications' effect for their campaigns in order to reach shoppers at various locations and stages of the shopper journey.
Looking at the vendors' responses, what started out as a random assortment of capabilities actually ended up covering every stage of the Path-to-Purchase. By understanding how, when & where shoppers engage with each vendor's media products, we were able to guide our client on the right vendors for their specific program objectives. If you are a vendor, remember: it's important to clearly communicate to clients where your capabilities fit in the omni-channel communications cycle.
Bottomline: Get Your Pitch Down
In general, the 30+ vendors I contacted were quick to answer questions and discuss opportunities, yet the quality of the responses varied greatly. I understand that filling out forms is not the most exciting process (!), but our client is very serious about incorporating new vendors in their marketing mix recommendations. I had assumed that the questions we asked were 'tip of the tongue,' or at least ones that could be answered quickly and easily. And, with the marketing world changing almost daily, it's critically important to know your story, to be able to define your key differentiators, and to be able to communicate this information quickly and effectively. Overall, my client was very happy with the responses, and they're ready to meet all you exciting vendors in person soon!
A New Way To Pitch
During my research process, I was introduced to Olga and learned more about her new Vendorstan platform. I'm really impressed with the organization, simplicity & 'searchability' of the website, and believe it will be a great resource to connect brands and service providers. I would encourage you to include your services in the Vendorstan database, so that in the future, you won't need to fill out such questionnaires anymore, simply direct anyone interested to your Vendorstan company page.
Other Posts You May Like