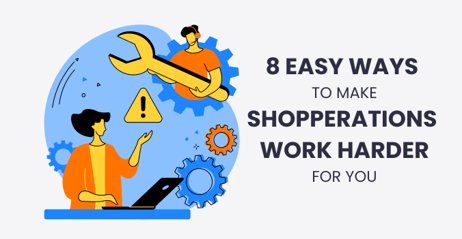 Shoppperations is a software-as-a-serivice, subscription-based application, which means that it is used by multiple companies. While the software looks the same for all clients when it's freshly deployed out of the box, later, it is meticulously configured to meet each company's unique needs and reflect their processes.
In addition to configuring the software for each client company, their individual users, too, can configure their own interface to make Shopperations work harder for them. If you missed the training or have just begun your Shopperations journey, check out these convenient features that will help you create a more productive, tailored Shopperations environment:
1. Update your Profile avatar
If you work on a remote team, many of your colleagues rarely meet you in person and may have a hard time remembering your face, especially if you are conference call camera-shy. Make it easier for them to recognize and appreciate you by adding an avatar in your Profile Settings. Up-to-date profile pics are a modern day workplace decorum!
2. Tweak Your Notifications Subscriptions
If you want to be notified by the system every time a budget changes, or if your events are ready to be finalized, you can adjust your subscriptions in Profile Settings, Notifications section. You may also decide to unsubscribe from certain kinds of notifications if they are less relevant for you to spare your inbox.
3. Play with each page's Settings
The page settings cogwheel button is available on Budgets, Events, Tactics and Calendar pages. You may want to add or remove visible fields or drag and reorder them to make each page more informative or less cluttered.
4. Collapse Spend Tab view by default
Spend tab inside each event is where you likely spend a lot of time planning your programs. If you tend to run large, multi-tactic scale programs, a collapsed default view may make sense for you and offer a higher level summary of all your tactics. Rather than collapsing tactics each time you visit Spend tab, enable the collapsed default view in Settings under cogwheel icon.
5. Apply filters to create useful views
If you work for a large team, the amount of information you have access to on each page may be overwhelming. The way to narrow the scope and make the data set more manageable is to get to know how filters work. The Filter list is in the center of Budgets, Events, Tactics, Actuals/Invoices and Calendars pages and is easy to use. The applied filters are always visible and will be saved for the future page visits, until you clear them out.
6. Create report templates to quickly answer FAQ
Because the data in Shopperations is live, our report engine can answer ad-hoc questions quickly. However, if you already know what questions will be consistently asked of you, creating FAQ reports and saving them as templates will save you time and make you look proactive. Give your FAQ reports descriptive names, share with your colleagues if they have access to Shopperations, or download to Excel to send our via email. Next time the question is asked, simply hit the Refresh report button and you are ready to go!
7. Change the way you group tactics to gain new perspectives
The recently launched Tactics page in Shopperations has many cool features, apart from looking more like Excel and being drillable all the way to the "bottom" of your plan, it has a Grouping feature that lets you look at all your tactics on the same page by Event, by Budget or Ungrouped. Depending on a question or an audience, various views may be more useful.
8. Apply retail Fiscal Period labels to facilitate retailer-centric conversations
Shopperations calendar has a very useful feature for those of you who go to retailer sales calls and want to be able to illustrate programs in a calendar format. The default fiscal periods and quarters in Shopperations will reflect your company's calendar, which is what you want for internal meetings; however, a simple toggle on top right will relabel the calendar with your retailer's discal periods to facilitate retailer-centric calls.
Did you know about all of these features? Have you tried using them? Which ones are your favorite? Are there user customization features you would like us to add that would make your work easier? Shoot us a note in the comments below, we would love to learn from you!
Other Posts You May Like: