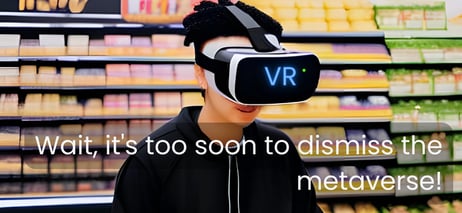 In the midst of the pandemic, we witnessed a remarkable surge in digital experiences, ranging from the explosive rise of grocery e-commerce, rapid adoption of teleconferencing, mainstream adoption of remote work and online collaboration, to the emergence of VR realms. Covid isolation and longing for social interactions, as well as recent VR and AR technology advancements, have been fueling consumer interest in and adoption of metaverse and sparking conversations among marketers on when and how it will impact our ability to reach shoppers and influence their behavior.
Understanding the metaverse is hard because it is in such early stages of development and has not yet entered the mainstream. There is a lot of testing and learning going on and at this point, it's difficult to predict how the metaverse will impact our work as marketers. This article is my attempt to demystify the metaverse and share some of the prominent use cases that are relevant for CPG and Retail industry marketing professionals.
So What Is The Metaverse?
Oxford Learner's Dictionaries defines the metaverse as "a virtual reality space in which users can interact with an environment generated by computer and with other users." It represents the next iteration of the internet, providing a distinctive immersive experience where individuals can interact using conventional devices as well as advanced technologies like virtual reality (VR) and augmented reality (AR) headsets. The term "the metaverse" refers not to one, but to many unique, interconnected digital realms that host approximately 400 million active users worldwide. It is important to distinguish between the metaverse of fun and the industrial metaverse. The latter allows businesses to build digital twins of physical products and services and test ideas and concepts without significant financial investments. The former revolves around personal enjoyment, offering opportunities to socialize, buy and test products, play games, attend events, and more. The most promoted metaverses of fun are Roblox, Fortnight, The Sandbox, Decentraland and Minecraft.
Are Marketers Bullish Or Bearish About THE Metaverse?
Last year, McKinsey estimated that the metaverse could generate $5 trillion in value creation by 2030. In recent years, many companies have jumped on the metaverse bandwagon and invested in partnerships, new capabilities and talent in this space in order to gain the early mover advantage.
However, as we gradually return to a semblance of pre-pandemic normalcy, the hype surrounding the Metaverse appears to have diminished. Notably, Disney has made the decision to close its division dedicated to developing its own Metaverse strategies, while Microsoft is discontinuing its Social VR platform called 'AltspaceVR,' and META has signaled that its primary focus will be on AI. Walmart has shut down a branded space in Roblox called Universe of Play after only six months due to privacy concerns. This slump in interest can partly be attributed to mass reopenings after years of Covid, as people seek real-world experiences once again. The current hardware and software technology is not yet able to achieve a full-immersion graphical experience to compete with real life.
Given these developments, it begs the question of whether retailers and brands should write off the metaverse entirely.
Sitecore survey shows that global marketers are bullish about the metaverse: 91% plan to invest a portion of their marketing budget in the metaverse over the next 5 years;
81% believe there will be widespread adoption of the metaverse in the next 5 years; however, 65% feel that consumers don't fully understand the concept of the metaverse.
Let's first examine several use cases and metaverse experiments conducted so far to better understand how marketers are creating value in the metaverse today.
Metaverse Use Cases
Making real money in the metaverse by selling NFTs
Brands are experimenting with using non-fungible tokens (NFTs) to engage and reward loyal customers in new ways.
Nike found remarkable success with NFT sales in its virtual realm Nikeland on Roblox, generating $186.13M. They prioritize digital earnings under Nike Digital, acquired NFT-focused firm RTFKT, and just launched Airphoria in collaboration with Fortnite to drive metaverse engagement and overcome hesitancy.
Louis Vuitton launched €39,000 phygital (physical + digital goods) VIA Treasure Trunk NFTs, offering access to its exclusive digital and physical products. The launch aligns with the brand's long-term community vision, emphasizing loyalty and gamified elements. This project creates an elite pathway to luxury offerings, setting a strategic move in the sector.
Innovative Branding At Virtual Events
Coca-Cola entered Decentraland, hosting NFT collectibles, AR mini-games, live events & "virtual reality soda." The brand aims to boost awareness in the metaverse. They launched "Sugar-Byte," a metaverse-inspired drink, bringing the "taste of pixels" to fans in both virtual and real worlds.
Brands that are more cautious about their marketing spend can choose less expensive ways to advertise in the metaverse. One option is to participate in events like Decentraland's Metaverse Fashion Week.
Virtual Product Experiences
Metaverse can be an affordable way for brands to showcase their product and services up close and in a more personalized and engaging way than ever before. For example, Fiat Metaverse Store lets customers explore the new 500 La Prima by Bocelli model in virtual reality and test drive it at La Pista 500, Italy's largest rooftop garden.
Celebrity Cruises launched a virtual cruise ship in the metaverse, offering 360-degree tours of their ocean liners, AI-powered avatars, and virtual tours of destinations.
Better Shopping Experience With Digital Humans
Digital humans, also known as Virtual Humans, are AI-powered chatbots that can provide assistance in online shopping and customer support. They can also serve as shoppers' digital twins who can try on virtual clothes before buying them in a physical world.
Spanish company Voicehumans created a shopping assistant Lia that helps shoppers make entertainment decisions and navigate stores in the shopping malls.
Serbian startup Igigi offers a shelf-mounted shopping assistant that helps find specific items on large and complex planograms, pick a product for a specific dietary need or occasion, and recommend a substitution for a product that is sold out.
New Types of Shopper Data Collection
In addition to advertising and NFT sales, the metaverse offers opportunities for consumer data collection and research. The metaverse can provide exceptionally insightful user data, including contact details, biometric data, and biometrically-inferred data (BID), which is inferred from behavior, psychology, and non-verbal cues. Combining BID with AI-based predictive models opens up new possibilities for audience targeting. This is especially timely given Google's decision to discontinue third-party cookie collection in 2024.
Store and Aisle Redesign with VR Technology
Mondelēz used VR shelf tests to gain real-world insights for category growth. Combining shopper feedback with behavioral data, they optimized shelf presentation, driving business impact.
VR technology is being increasingly used to assist in retail store design. For example, Kroger and their in-house agency 84.51, along with their CPG partners, use shopper-centric VR testing to stage multiple aisle layouts and store signage options to find the optimal solution while avoiding costly store resets.
Metaverse Mainstream Adoption - not "if", rather "when"
Just like any novel technology or concept takes time to materialize, the metaverse requires time to develop and reveal its full potential. Think back five years ago when grocery e-commerce was still a niche concept, then suddenly a global pandemic propelled it to new heights and made it mainstream. Metaverse may experience similar explosive growth or gradually evolve with better technology and digitally-naive GenZ and GenAlpha entering working and spending life stages.
In addition to improved software, the digital realm requires powerful hardware to enable its existence. While certain advanced electronics are currently costly and others are yet to materialize, the metaverse is anticipated to realize its complete capabilities with the full implementation of Web 3.0 technology.
Adrian De Grazia, Americas Digital Sales Director and Argentina Country Manager at Intel, believes that the metaverse could be the next great platform, just like the worldwide web and mobile devices before it.
Major tech companies that have a more direct connection with end consumers are actively investing in the development of next-generation devices beyond smartphones. One promising innovation on the horizon is wearable glasses designed to support AR and VR experiences. Apple's recent strides with the Vision Pro headset have reaffirmed this direction and the immense potential for the metaverse.
Conclusion: Keep Tabs On The Metaverse
The metaverse technology seems to be very promising, even though the latest sentiment is a bit down. Interest and continuous investment from big companies like Meta, Apple, Nike, LVMH and others affirms that it has a future. Maturing GenZ and GenAlpha who are enthusiastic about all things digital, will broaden the metaverse user base in the coming decade. The advancement of cloud computing and hardware devices technologies will eventually allow the metaverse to resemble and even surpass real-life experiences.
Keeping an eye on the metaverse and investing in it selectively will be important for shopper marketers for several reasons:
Gain first mover advantage:

By becoming familiar with the metaverse, you gain a competitive advantage. Knowing how the metaverse fits into shopper lives and what emerging marketing capabilities exist will allow you to move early and decisively, bringing the data, ideas and capabilities to your brand, sales and retail partners and winning a seat at the table.

Keep research and design costs down:

By using VT technology in shopper research and aisle redesign initiatives together with your retail partners you can significantly reduce expenses by weeding out non-viable new product ideas, packaging designs, signage and planogram layouts.

Gain insights into future shoppers

: By engaging with GenZ and GenAlpha consumers in the metaverse you build a more complete picture of their values, behaviors and preferences that will shape shopper behavior in both the digital and physical world for years to come.

Explore strategic alliances:

As the metaverse grows and evolves, new technology platforms and partnership opportunities will arise. If you stay informed and engaged in this new realm, you will be able to properly identify the best ways to form strategic alliances and quickly and effectively scale your metaverse presence.
Have you been exploring the metaverse? What aha moments did you experience there? Share in the comments or drop me a line Olga "at" shopperations.com.
Other Posts You May Like: