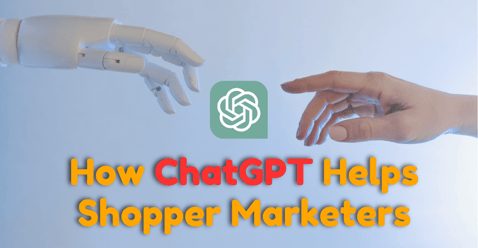 Are you tired of hearing about ChatGPT yet? It seems like everyone is talking about it these days. ChatGPT has so many applications, both for personal and professional life! Today, I wanted to share how shopper marketers in the CPG industry can take advantage of AI bots and their natural language processing capabilities.
I have been playing with ChatGPT for a couple of months now, and I find it fascinating. It has helped me get more productive, savvier, and organized by giving me shortcuts to do things that used to be time-consuming or stressful. Every knowledge worker will feel the impact of AI on their work. Some jobs will be changed in a way we can't even begin to imagine. It may sound ominous, but I also sense great hope that our jobs will become more fulfilling. Rather than being threatened by AI, let's look at how it can add value to the daily work of shopper marketers, today:
1. Hiring
Are you looking to grow your team? Not sure whom you need to hire next? Struggling to write a job description? Ask ChatGPT to help! I asked Chat GPT: "Write me a Shopper Marketing Manager job description", and here how simple and fast it was. I was truly impressed with the concise, well-structured answer, which can serve as a great template to further personalize the job description.
Other questions you may want to ask ChatGPT to facilitate your hiring process:
"Where do CPG Shopper Marketers look for jobs?"
"What interview questions should I ask a Shopper Marketing Manager job candidate?"
"What is a typical compensation structure for a Shopper Marketing Manager in the CPG industry?"
2. Training
ChatGPT can answer very specific FAQs your new hires, especially entry-level ones, will likely have. Develop a list of non-proprietary fundamental FAQs that are helpful in onboarding into the shopper marketing role and see if ChatGPT already knows the answers. The great news is that the answers will continue to evolve with time, so you won't need to worry about keeping your content up to date. For example, I was astonished to see the quality of the response to a pretty complex and specific question: "How to design a Meal Solutions in-store display?". Other Q&A ideas to play with:
"How can a CPG marketer prepare for a retail buyer meeting?"
"How to create an integrated shopper marketing campaign?"
"What part of the grocery store should I run demonstrations of new products?"
"Which retail media platform should I focus on first if I sell [Category] products?
"How to attract shopper attention in-store in the [Category] aisle?"

3. Competitive Intel
Wonder who the top advertisers on each Retail Media Network were in the recent past? ChatGPT may be able to tell. For example, when I asked "Who were the biggest advertisers on Kroger Retail Media Network in 2021?" it gave me a pretty specific answer:
Other questions you can try while snooping on your competitors:
"What is [Brand]'s share of [Category] market in the US?"
"What are the strengths and weaknesses of [Competitor Brand] vs. [Your Brand] in the [Category] category?"
4. Shopper Insights
Shopper marketers and their shopper insights counterparts can use ChatGPT to quickly and accurately answer research questions related to shopper behavior and preferences. By asking natural language questions, the AI model can provide instant answers with high accuracy, saving your team time and effort. Ask ChatGPT "What are the main shopper missions in the [Category] aisle?" and see what it says!
Another great way to use ChatGPT is to identify emerging category and shopper trends. AI will analyze data from various sources, such as social media, search engines, and online forums. By analyzing the language used by shoppers in these sources, ChatGPT can identify new shopper trends that might not have been found through traditional research methods. For example, try asking ChatGPT "What are the latest shopper trends in the [Category] category?" when you are preparing for your next retail buyer meeting.
5. Content Creation
Writing ad copy can be very time-consuming. Humans need to be able to focus, and the risk of burnout is very real. AI can help you get through writer's block. I admit: I am writing this blog with the help of ChatGPT. It gives me a lot of inspiration for content structure and ideas for where to dig deeper.
ChatGPT is particularly great at writing engaging ad copy. So, next time you feel stuck, ask for help writing an email campaign sequence, social media posts, or product page content. Try asking ChatGPT:
"How would you improve this product page content? [URL]
"Write 10 social media posts to promote [Product] - here is the product page: [URL]"
"Write me an engaging landing page copy for dinner meal solutions that include various ethnic meals but contain familiar ingredients."
How to start
ChatGPT is free (for now), so it's a great way to get your feet wet with an AI interface. Here are some tips on how to get started and how to maximize your experience:
Register here ChatGPT | OpenAI

Install the WebChatGPT Chrome extension to allow ChatGPT to explore recent web content, otherwise, it will only rely on older data.

Try asking very specific questions and get a feel for how AI works. There are many online resources for how to ask AI "good" questions.

Give ChatGPT feedback - click either the thumbs-up or down icon to the right of each response. You can also give verbal feedback, ask follow-up questions, and explain why you disagree or are not happy with the answers AI gives. This will help refine and improve future results.
I hope you enjoyed meeting your "new friend", ChatGPT. I would love to hear about your experience here in the comments. Or you can send me an email at olga@shopperations.com
Other Posts You May Like