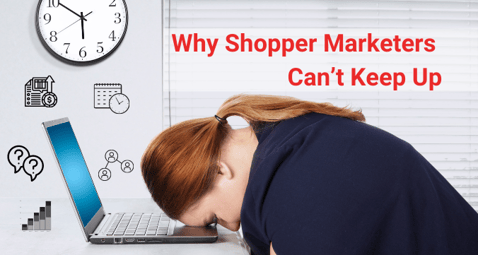 "I am working 11-12 hours a day since COVID hit and am still not keeping up," says a Director of Marketing for National Accounts at a beverage manufacturer.
Rather than the exception, the "always on" feeling is wearing on shopper marketers as more is asked of them and more complexity is becoming their norm in their roles without additional tools or resources.
"Most of the information about our shopper marketing programs is living in my head, making me anxious to take vacation and let my team down." says an Associate Brand Manager for a growing brand.
TOO MUCH AND NOT ENOUGH
Shopper marketing has been the conduit between sales and marketing. As a result, the information and responsibility to make sure that everyone is on the same page falls on the shoulders of shopper marketers.
"I always have to be prepared to answer questions from all over the organization," says a Shopper Marketing Director leading a team of two at a mid-size food manufacturer.
Whether it is making sure that sales teams have the calendar and plan information for their accounts, aligning with outside agencies on programs and strategic direction, or managing the budget and reconciliation process to know what is being spent and what can still be spent, shopper marketers spend significant time flipping between emails and spreadsheets to try to keep it all straight.
"With e-commerce, retail media, and the cross promotion across the breadth of our existing portfolio, the complexity of what we do continues to grow. We need a better way to push and pull the levers to meet plan objectives," says one Senior Director of Shopper Marketing at a large food manufacturer with brands spanning multiple categories.
The result of this increasing span of responsibility and evolving program complexity is a gap in the tools and resources shopper marketers need.
A SHARED PURPOSE FOR SHOPPER
Without the right tools and resources, shopper marketers struggle to think strategically and proactively about their plans and investment.
"I am being pressured to deliver more strategic shopper marketing initiatives, but our planning process and tools are set up to meet short-term numbers for the quarter," says one Director of Shopper Marketing and Retail Shelf at a CPG company.
To be more strategic requires a change in thinking of the organization. This starts with a common understanding of the purpose of shopper marketing in the organization.
"The reason we do shopper marketing is to get super-targeted with our customer conversion so we understand our long term investment," says a Customer Development Manager leading shopper marketing for a national food manufacturer.
Once the purpose and objective is agreed upon in the organization, we can start to investigate what part of the jobs can be automated to focus on the objective while maintaining the workload.
EXPANDING THE TOOLSET
At some point, the move to spreadsheets seemed like a significant advancement to manage the intricacies of shopper marketing. Today, those spreadsheets simply cannot automate enough of the administrative load that shopper marketers need.
There are 3 key areas that shopper marketers say they need to improve when considering a solution to help offset the "all in my head" realities of today:
Simple and Repeatable

"I needed a simple way to get answers to the questions that I am sending the same emails to my team about every quarter," says this Marketing Director overseeing shopper marketing.


Centralized and Transparent

"I wanted to give our leadership a way to visually understand the roll up of where money is being spent and how it is working that the people that needed it could easily see," says one Director of Shopper Marketing


Comprehensive but Flexible

"It cannot just be another version of my existing spreadsheets. I need it to help me do my job easier, but also see things in a way to develop for the future," says this Area Marketing Leader for a Global CPG Manufacturer.


HOW TO START CLEARING YOUR HEAD
"We used to get a lot of questions about proving the worth of the shopper marketing program. Today, not so much," says this Director of Shopper Marketing after their implementation of Shopperations.
To get to this point, starts with building the business case for change around budget efficiency, collaborative planning, and investment transparency.
From here, it is easier to demonstrate the cost-benefit analysis of hiring new people vs. using a new technology solution to achieve these organizational objectives.
The alternative is best described as one Director of Shopper Marketing and Retail Shelf says, "I worry what happens if I am hit by a bus."
Of course, with all that was just talked about that is floating around in most shopper marketers' heads, the addition of stopping for a minute seems impossible. This is why Shopperations can give you a place to organize what's in your head and build a business case that your company will embrace.
Let's talk about how the experienced team at Shopperations can help?
Other Posts You May Like