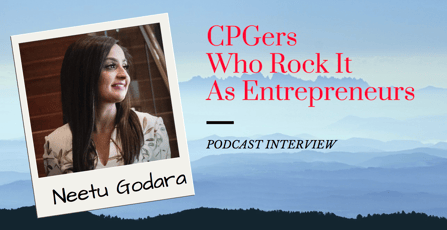 5 years into co-founding the Canadian ready-to-drink brand, SoCIAL LITE Vodka, Neetu Godara reflects on her transition from a CPG professional to an entrepreneur and her life-changing experience. Neetu Godara is a former Pepsico marketing professional who started a ready-to-drink vodka soda. The inspiration for SoCIAL LITE Vodka came from its founders' own experiences with entertaining and realization that the RTD industry was a relatively untapped market. They saw a path to success by targeting consumer interest in a health-conscious, ready-to-drink craft cocktail, which has been a key driver in the rapid growth of their company. In fact, SoCIAL LITE Vodka has become Canada's #1 vodka soda brand through selling a product that filled a gap in the cooler market.
Listen to my interview with Neetu Godara, CGO & Co-Founder of SoCIAL LITE Vodka,
to find out:
The idea behind SoCIAL LITE and how the brand came to be.
Neetu's journey to becoming an entrepreneur.
The experience she gained as a marketer that led to her starting the fastest-growing brand in the LCBO.
How the tenacity of Neetu and her team drove their brand in its early stages.
What she learned about motivation, accountability and strength when she decided to leave the CPG world after almost 12 years.
How her experiences with SoCIAL LITE have shaped her in both her personal and professional life.
How the brand is looking to become a household name, be a leader in their category and continue growing in the future.
Her advice to aspiring entrepreneurs.
If you know of other former CPG professionals who leveraged their experience as a springboard to start a successful new venture, please let me know. I would be highly interested in meeting and interviewing them.
Other Posts You May Like: