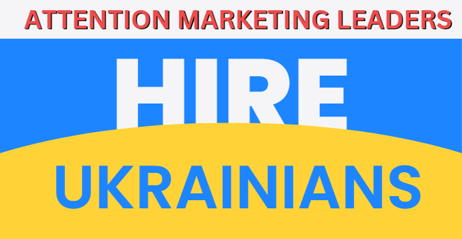 I have been living in the United States for more than 22 years, but I never lost connection with my home country of Ukraine. It has been my favorite place to hire since I started my company in 2014. Ukrainian designers, project managers, programmers and testers at Shopperations deliver amazing work and unparalleled value. For me, hiring Ukrainians is not a charity project, it's a true win-win.
Since the start of the full-scale Russian invasion in February of last year, 8.2 million Ukrainian refugees left the country. While most of them ended up in Europe, more than 100,000 Ukrainians came all the way to the USA, thanks to the new immigration program Uniting For Ukraine (U4U). Among them are many skilled workers who are looking to reestablish their careers and businesses in their host countries.
Ukrainian programmers have been widely known in the tech world for years, but Ukrainian professionals excel in many areas besides IT. I am constantly amazed by the kind of talent my home country produces in all sorts of verticals and trades. But since my audience is mostly marketers, today, I wanted to share why and how a European or a US-based marketing team should hire Ukrainians, both newly arrived and those who are still in Ukraine.
Why Hire Ukrainians:
Solid Work Ethic. There are very few labor protection laws in Ukraine, so it's not uncommon for Ukrainians to work harder and exceed your expectations. They are no strangers to overtime and extra workload, and are proud and passionate about their work. Ukrainians are generally reliable, efficient and disciplined, which is in-line with the Protestant Work Ethic that is prevalent in the West.

Education Never Stops. The country ranks 4th in the world on population literacy rate (99.7%), and, according to the Ukrainian government, 70% of its citizens have secondary or higher education. Because the colleges in Ukraine teach bare basics, Ukrainians are used to continuous learning on the job and are committed to self-education. They will get themselves on-boarded in no time and will amaze you with how resourceful they are when it comes to learning on the job.

Large Talent Pool: Ukraine is the largest country in Europe by territory, and 7th by population (43 million as of Feb 2022). In 2022, there were approximately 240,000 tech employees in the Ukrainian IT market, which is third largest in the world, after the United States and India.

Growing English Proficiency: Vast majority of Ukrainians grow up bilingual (Russian and Ukrainian are heard simultaneously everywhere), but they also are getting increasingly good at English. Ukrainians have been able to travel to EU countries visa-free for seven years now. The younger generation is growing up very worldly and speaks English quite well. The booming IT industry and numerous Western clients created strong demand for English speakers, too. You will have no problem communicating with Ukrainians, especially in writing.

Culture Fit: Most countries will find Ukrainians to be easy to get along with. They sit in the middle between East and West and can relate to various cultural perspectives. Ukrainians are known for their friendliness and sociability, which can make them good team players and help them easily integrate into multicultural workplaces.

Adaptability and Stress Resistance. Ukrainians have been through significant political and economic changes in recent decades, which has made them more adaptable to change and better equipped to handle stressful situations. Take it to the next level: after the February 2022 full-scale invasion began, most of my team members were able to relocate and restart work in just a few days. Those who remained in Ukraine learned how to prepare for power outages and equipped their basements to work during air raids. They are now ready for anything!

Cost Effectiveness - cost of living in Ukraine is one of the lowest in Europe, so your remote Ukrainian talent will likely cost you a fraction of what you are used to paying on-shore. Many seasoned professionals who are relocating to Western Europe or the US due to war are taking a step back in their careers to re-establish themselves in a new job market.

Time Zone Arbitrage For Remote Talent: Ukraine is just one or two hours ahead of Western Europe and seven hours ahead of the US East Coast, which offers a sizable working hours overlap to enable real-time collaboration. Many remote workers in Ukraine work later in the evenings to increase the overlap with their western clients' schedules. For me personally, the seven-hour shift is nice because by the time I get up, I can see the deliverables in my inbox, offer feedback and sometimes even see the next round of revisions the same day.

Work Authorization For Local Talent: The great news for Ukrainians and for you, as a potential employer, is that the U4U program for Ukrainian parolees offers a U.S. work authorization immediately upon their arrival. This saves a lot of headache because you won't have to deal with immigration lawyers and wait for work visa or green card approvals. Most EU countries now also offer work authorization to Ukrainians.

Gratitude. The war is still raging, and Ukrainians are immensely grateful to their allies for the unwavering support they have been providing. For the weapons, ammunition, military intelligence and training, refugee assistance programs, reconstruction investments and of course, for the jobs. These jobs help refugees become valuable members of their new communities, and remote workers invest in the Ukrainian economy.
How to Hire Ukrainians
So now that you are hopefully convinced that you need at least one Ukrainian on your team, where do you go from here?
Decide what work can be outsourced. I found success with outsourcing work such as this:
Branding and graphic design

Website development

SEO/SEM

Podcast and video production

Copywriting, technical writing, editing

Custom web and mobile app development

Social media marketing

Online research, lead generation, data entry

Business and statistical analysis, data modeling and visualization
Write a job description - see how ChatGPT can help with it, if you need inspiration.

Share the job with your network. Post you job on LinkedIn and announce to your network using the hashtag #hireukrainians. Ask your network to reshare. Tag Ukrainians you already know, they will definitely spread the word for you.

Post the job in social media groups and freelancer sites:
Upwork: Upwork is a popular freelancing platform that allows you to hire remote talent from around the world. You can find Ukrainian marketing professionals by using relevant keywords in your search, such as "Ukrainian graphic/web designer" or "Ukrainian remote digital marketing". If you want to hire someone still in Ukraine, use location filters. Here are some examples of Ecommerce Marketing Specialists located in Ukraine.

DOU, one of the largest job sites in Ukraine, mostly software developers but also designers, marketing and sales pros. Here is the English version of their site.
Make It In Ukraine: This platform claims to be a top remote recruitment agency matching award-winning talent for high-velocity companies and startups in need of specialized senior IT talent. While their main focus is IT, it's worth checking if they can connect you with marketing professionals as well.

Employ Ukraine: This non-profit offers access to a pool of candidates in various fields, including marketing, and provides remote or in-person roles. It claims to have 20,000+ candidates and 5000+ jobs available. You can sign up on the platform and browse through the available talent pool.

Recruiters for Ukraine Facebook Group
If you are aware of other groups and websites that assist Ukrainian employment worldwide, please share in comments. If you have success stories of hiring Ukrainians, I also would love to hear from you! Are you a Ukrainian refugee who was able to find a marketing job in the West and have tips for job seekers and employers, share them here!
Glory to Ukraine! 💙💛
Other Posts You May Like: