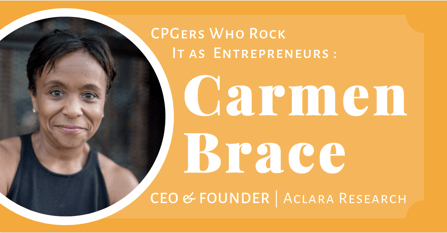 I first met Carmen Brace many years ago when we both worked for Conagra Brands. I admired her vibrant energy and sharp mind, so even after both of us left the corporate world, I followed Carmen's entrepreneurial story and always looked forward to seeing what she was going to do next.
Carmen's CPG industry experience is very impressive and diverse. She worked at Mars-Wrigley, Campbell Soup and Conagra in all sorts of executive roles, such as Consumer and Shopper Insights, Sales, Analytics, and Strategic Planning. This well rounded background became an excellent springboard launch her brainchild, Aclara Research.
"The Career i built within cpg created relationships that have been indispensable."

Aclara Research is a cannabis consumer insights company focused on identifying category trends, innovation opportunities and marketing strategies through cannabis patient, consumer and CBD user panels and studies. After just 4 years, Aclara Research has been named a leader in developing consumer insights within the cannabis and hemp industry. Their longitudinal panel studies offer unprecedented insight into how the CBD consumers change over time, why they use CBD products, and how they behave as shoppers.
Listen to my interview with Carmen Brace, CEO & Founder of Aclara Research, to find out:
How her goal of living up to her fullest potential led her to starting her own company.
The knowledge and skills it takes to start a business.
How her CPG experiences taught her how see bigger picture, and, in turn, helped her in her entrepreneurial journey.
The impact of COVID-19 on the CBD industry.
How her experience living in other countries taught her to think differently.
Why the relationships she made in the CPG world were essential when she launched Aclara Research.
Her advice to CPGers who aspire to become entrepreneurs.
If you know other former CPGers who should be featured on this podcast, please send them my way!
Other Posts You May Like: