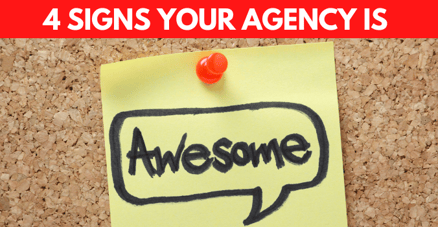 Evaluating your agency partners should be an evergreen process. In any healthy relationship, good partners accentuate our positive traits while mitigating our worst instincts.
Client/Agency relationships are no different. Awesome agencies make their clients better, they 'complete them,' to borrow a metaphor from a popular movie.
The role of Shopper Marketing has always been a blend of both sales and marketing. Regardless of which side the Shopper Marketing function sits in your organization, you need your agency partner to understand this dual dynamic to properly support your team. So, how do you know if your agency is awesome? There are four key capabilities your agency partner should demonstrate if you want to build a world-class Shopper Marketing organization that will contribute to your company's growth.
1. They Understand Brand Building
Shopper Marketing is marketing, after all. It's even in the name. Your shopper agency should be an active contributor on the Integrated Marketing Communications team, helping shape and form the campaigns, translating them for commerce applications and optimizing for retail partnerships. The agency should be connecting every program they work on to the brand architecture, manifesting the brand appropriately for the retailer and shopper needs.
2. They Know The Retailers
Intimate knowledge of retailers is table stakes for any shopper agency. Sales and Category Management have relationships with buyers and senior leadership, however, the Marketing function within retailers are often overlooked. Your shopper agency should understand each retailer's goals, communication objectives and go-to-market strategy as well as they understand the intimacies of their core shoppers in order to effectively plan programs that mutually build brands' and retailers' equities.
3. They Think Beyond The Store
Shoppers look for inspiration, make decisions that impact their purchases, even make the actual purchases, without ever setting foot in a store. Your shopper agency should not only know the latest and most impactful marketing tools within each retailer's stores but also be experts in leveraging omnichannel and "last mile" strategies to truly reach and influence shoppers across every stage of their journey.
4. They Measure The Right Metrics
Measurement and evaluation are core to shopper marketing success, and it's a complex topic. You want your agency to lead you and teach you how to do analytics well. They should bring measurement best practices and help you create a solid process for capturing data and measuring impact of your programs. While you may have access to traditional metrics of sales lift and ROI, a great agency would also capture and share media performance KPIs for real-time optimization as well as traditional marketing and brand health metrics available through panel data for each retailer. Failure to measure beyond traditional sales metrics limits your ability to make true investment decisions.
Shopper Marketing continues to evolve as shoppers' behaviors and retailers' priorities change, new platforms arise, and commerce becomes more seamlessly integrated with the way we live. An agency that can keep up with times, is curious and open to change, brings innovation and challenges your team is the kind of partner you need.
Not every agency will have strengths in all four areas, but taking you time to evaluate where they stand and finding ways to fill the gaps with other partners will be an important part of your vendor partner strategy.
Are you dealing with an under-performing agency partner or simply curious to see how awesome they are? Drop Alejandra a note or contact her via Starfish Partners website so she can help, or use our Free Shopper Marketing Agency Evaluation Checklist to do it yourself!
Other Posts You May Like