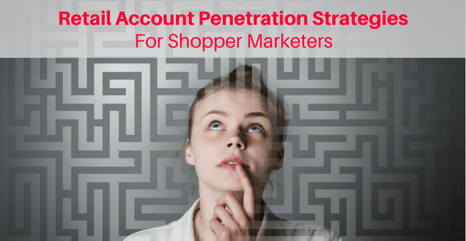 Every CPG organization, at some point, realizes their existing relationships with Category Managers or Buyers can take them only so far. Their next challenge is to start strategic, long-term conversations with other groups inside their retail customer organizations. A large retailer's headquarters can be a challenging maze to navigate.
For shopper marketers, mapping out and understanding this maze is essential for long-term success. Start by asking, "Who are the key stakeholders and can you reach out to them effectively?" Below are some ideas on where to start and how to effectively partner with various groups in your key retail accounts in order to develop strategic Shopper Marketing relationships for long-term success.
Get in the Right Frame of Mind
You may be thinking, "Why would a large, busy retailer talk to me?". While your target contacts are indeed busy, stretched thin, and have dozens of other CPG vendors knocking on their doors, you shouldn't sound needy when it comes to setting up appointments. Wear your consultant hat, and show them how you can improve their professional life by setting yourself apart from your peers:
Inspire Them

— Offer insights that tell them something they don't already know about their shoppers.

Bring Scale

—

Gather all your brands to showcase the breadth of your portfolio and how you can play a meaningful role in their shoppers' lives.

Fund Their Ideas

—

Your shopper marketing budgets, especially when pooled across all of your brands, are a tremendous asset retailers seek to better understand and direct.

Showcase Your Talent

— Position your team as a savvy partner your customer can rely on to help them achieve their goals. Your team's ideas, energy and capacity can be a valuable resource to your retail partners.

Offer Turnkey Solutions

— Make it easy to say yes to the complex, scale initiatives you bring to your retail customers by making them

completely turn-key

.
Know Where Your customers' Strategies Take Shape
Most likely, your exposure to retail client organizations began with the category managers, or buyers, your sales team calls on. Category managers' everyday goals are to deliver monthly or quarterly sales and profit results. To achieve their goals, they are focused on getting the right cost through supplier price negotiations and how to apply the right levers (feature, display, TPR) and shopper tactics to drive their top-line sales. Conversations with category managers tend to be short-term in scope and are heavily focused on pricing.
If you want to walk away from price-centered conversations, carefully observe who sets the strategic course for your key accounts. Often, you can infer who the key decision makers are by attending annual vendor conferences and observing who presents or speaks for the retailer and what they talk about. Another way to find out is to simply ask your current contacts, "Who sets or influences the 1-3 year plans for your company?"
Here are a some of the groups you can reach out to and engage in long-term strategic conversations:
1. Shopper Insights/Marketing Research
— This group researches trends and shopper attitudes, studies competitive landscape and identifies areas of risk and opportunity for their company.
How to Impress Them

: If your company has foundational shopper research, trends or competitive retail assessments, package the findings in a short executive summary format and forward the findings to the Shopper Insights team with an offer to have an in-depth meeting to review the studies. Suggest your research experts run the meeting to turn it into a sharing/learning session with no pressure to sell anything.
2. Marketing Communications
— This group is typically in charge of in- and out-of-store communications, retail branding guidelines, determining major communication platforms and seasonal communications, and managing the entire marketing mix.
How to Grab Their Attention:

Somewhere in this organization there may be a CPG vendor liaison whose job is to meet with people like you, so this may be an easy meeting to score. Otherwise, tell them you are interested in aligning your shopper marketing spend with their key seasonal themes to amplify their efforts. Bring ideas for how you can add more impressions to their campaigns and how to drive more store and website traffic. If you have

strong content they can leverage

, mention it — marketers can never have too much content.
3. Merchandising/Promotional Planning
— These teams are in charge of coordinating weekly circular features and in-store display plans. They are very busy and mostly meet with large or strategic CPG vendor partners who can deliver the sales volumes and meet their weekly and monthly sales goals.
How to Get a Meeting

: If you are small CPG manufacturer, you may have a hard time getting a meeting simply due to the fact you don't have enough impact on their sales plan. Consider alliances with private brands and

complementary product manufacturers.

These "coalitions" that come to the retailers with pre-conceived shopper solution ideas will likely get more traction, especially if you can offer turnkey implementations that make it easy for the promotional planning teams to say yes and to carve out some space in their circular and on display floor.
4. Loyalty/CRM
— Smart retailers leverage their shopper data to reward loyalty and look for CPG partnerships to shape and fund these efforts. The CRM and Loyalty groups are some of the most analytical, sophisticated and forward-thinking people in the industry, so you will have to bring some heavy talent artillery to the meeting.
How to Win Their Hearts

: If you have internal CRM experts, bring them to the table to offer expertise and POV on retailers' current challenges. Host a roundtable with industry thought leaders or offer to sponsor industry conference tickets. Share content, offers and shopper data, especially data generated outside the retail partner stores, to help improve shopper understanding and 1:1 messaging.
5. E-commerce
— This is where many retailers invest heavily today to gain first-mover advantage and win omni-channel shoppers. These teams are very focused on building awesome user experiences online and offline.
How to Intrigue Them:

Be ready to share your product information, offer premium content to engage online shoppers, sponsor retailer initiatives to drive awareness and sign up to their click-and-collect or home delivery programs. Consider offering product samples to incentivize e-commerce adoption and online purchase frequency.
6. Retail Operations
— This is where store re-design and aisle reinvention initiatives take place. These teams work closely with merchandising and marketing plus they do a lot of in-market testing and pilots before deciding what new sets will be rolled out across all stores.
How to Partner with Them:

Be curious about and understand their long-term plans because they may influence your R&D roadmap. For instance, retail partners who look to launch small store format are likely very interested in smaller pack sizes that are geared toward urban shoppers. Do you have them in your pipeline? Retailers who want to become a destination for upscale shoppers will offer bigger share of shelf to premium brands. Do you have relevant SKUs and enough capacity to accommodate their new demands?
Building Relationships that Last
Now that you've identified the key stakeholders and how to reach out and engage them, you need to put some effort into building and maintaining a long-term, productive relationship. These tips can help you find the balance between a helpful ally or an unwelcome disruption to an already busy workday.
Define "penetration" and its different levels and facets: Is it a LinkedIn connection, an informal coffee meeting, a formal capabilities presentation, a one-time project or an ongoing long-term partnership.

Set overarching goals and tie them to not only short-term sales opportunities but also long-term JBP process and

Kantar PowerRanking

scores.

Make customer penetration part of your team's performance objectives.

Assign team members to reach out to specific customer contacts but be careful not to encourage territorial behaviors where only one person is "allowed" to make connections.

Work on the relationship between sales calls by joining networking organizations such as

NEW

(Network Of Executive Women) which, by the way, is open to men as well.

Invite your key customer contacts to travel to industry conferences, such as

Path To Purchase Expo

or

Shopper Marketing Summit,

better yet, sign up to speak together about your success stories.
Shopper Marketers' Main Goals
I believe strongly that the shopper marketer's main goal is to make connections. Whether that's by busting the Brand-Sales silos or navigating the complicated maze of Retail headquarters or building the right team, shopper marketers must be able to see the possibilities in how to connect, engage, and build lasting relationships throughout the complex web of CPG and Retail. It's one of the hardest and most rewarding parts of being a Shopper Marketer! What suggestions or tips do you have to start the strategic conversations with Retail?