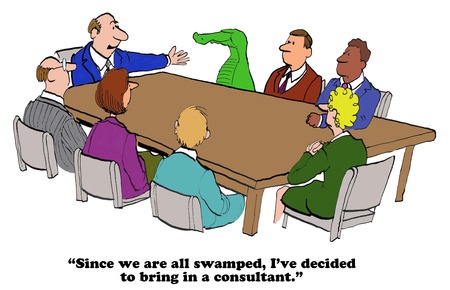 Was 2016 a stressful year for you and your team? Marketers are an over-worked and stressed out bunch, and
shopper marketers are even more so
. Last year's
survey
of marketing professionals conducted by Workfront indicates that 80% feel overwhelmed and understaffed.
Marketers reported that their primary causes of anxiety were:
Constantly proving their value to people who don't understand what marketers do.
Juggling all the tasks on their to-do list.
Constantly putting out fires, and
Delays due to late stakeholder approvals.
Does this sound familiar? The good news is that it's not your personal failure, but rather an industry phenomenon. The bad news is that it's likely to get worse in 2017.
There are several reasons to believe that pressure on CPG shopper marketers is likely to increase next year. However, if you know what to expect, you can proactively prepare your team to deal with the workplace challenges and make next year more fulfilling and productive than the last.
1. Lack of Organic Growth and Continuous Acquisition Spree
CPG is a very mature industry in the US and Western Europe. Many categories experience slow low single digit growth, while some center-store categories are in decline and vie for the shrinking shelf space. This trend will exacerbate in 2017 and result in more pressure on sales and marketing teams to deliver organic growth as well as cause more merger and acquisition activities. These new business acquisitions, which may sound exciting, in the short-term will drive increased workload due to systems, processes and people on-boarding.
2. Headcount Pressure
In response to lackluster growth, many CPG companies temporarily stopped hiring or even plan to reduce headcount. Taking headcount off the books is a top priority for many CEOs in the CPG industry, even in strategic areas such as shopper marketing. One of the ways that the industry is coping with this pressure is outsourcing shopper marketing operations to agencies of record, who, essentially, become external shopper marketing departments for their clients. It is safe to assume that shopper marketing leaders will be expected to do more with same or fewer people in 2017.
3. ZBB, Cost and ROI Scrutiny
Zero-based budgeting (ZBB) has gone beyond the private equity firms. Much of the CPG industry is proactively reviving this old practice, which requires marketers to justify every dollar invested in their budgets. Shopper marketers must now have not only marketing and sales skills but also a deep, granular understanding of their budget cost structure and a strong financial acumen. It is now common for shopper marketers to deliver the up-front ROI program assumptions, which takes great discipline in collecting the historic program sales performance and costs, which in itself is a huge time commitment and a learning curve. In other words, expect more budget scrutiny in 2017.
4. Fragmented Attention and Spend Across P2P
With digital technologies adoption, shoppers' attention has become the scarcest resource, which means that it takes a lot more effort and many more touch points to reach the same audience and make a similar impact. Where a national FSI or a major radio campaign used to be enough to deliver the impressions and sales lift, today, a myriad of tactics have to be employed along the path-to-purchase, and numerous messages, assets, stakeholders and vendors have to be coordinated. Many CPG organizations embrace this challenge and kick off "digital transformation" efforts, which promise better organizational alignment and agility down the road. In the short term, however, we expect that shopper marketers' jobs will continue to become more complex to execute, let alone to measure and optimize.
5. Retailers' Advanced Marketing Capabilities
One of the most fascinating industry trends is the impressive growth of marketing capabilities of our retail customers. By harnessing transactional shopper data, many of them are starting to enable unprecedented 1:1 personalization and are becoming increasingly relevant. In addition, they hire former CPG marketing executives, embrace latest digital technologies and are re-gaining control of marketing strategy and shopper messaging. Brand shopper marketers now have to find new ways to stay relevant, strategically position their portfolios, shopper insights and marketing assets; otherwise, CPGs will be relegated to the role of co-marketing sponsors with limited ability to learn what works, let alone influence the programs design.
What Can You as a Shopper Marketing Leader Do to Help Alleviate Your Team's Stress?
Embrace radical transparency and foster trust. Push the decision-making authority as far down as possible. Eliminate "nice to have" approvers and checkpoints. Establish spending principles and share brand style guides that can support your team's decisions and eliminate the need to constantly seek approval from management. Standardize processes across organization and cross-train the team to avoid bottlenecks and better distribute team's capacity. Make all your promotional plans and PEA results visible in real time and easily understood by all internal stakeholders to avoid continuous data re-packaging and story spinning.
Promote data granularity. This one is counter-intuitive. While it may be tempting to simplify the process by only requiring to report high-level promotional assumptions, it will inevitably generate more work for you and your team down the road. If your plans are not documented on a granular enough level, any time you, your boss or another internal stakeholder wants to dig deeper or pose a question in a different way, your team will be sent on a data hunting exercise of massive proportions. Avoid "boiling the ocean" by gathering promotional plans and tracking detailed cost assumptions and actual spend from the get go, so that the data can be pivoted and sliced in various ways to quickly answer most business questions without stressing the team.
Invest in collaborative technology. Collaboration no longer needs to happen in person, in a meeting room or on a conference call. Resist the temptation to mandate physical presence in the office and recognize that work can be done any time and from anywhere. Modern tools such as videoconferencing, project management systems, cloud-based, real-time document management tools will let your team get things done on their terms and make flexible work arrangements (that so many managers still dread) deliver tangible results. Not only collaborative technology allows employees to work in a more flexible way, it increases overall team productivity by 20-40%.
Foster wellness. Encourage employees to take care of their health and mental well-being by taking full advantage of their vacation days. If the team is cross-trained and employees know how to support each other, anxiety of leaving for vacation and risking missing deadlines should be a lot lower. Offer yoga and meditation classes at work, encourage preventive health screenings and promote active lifestyle and ergonomic work environment. Small investments like these will yield significant returns in happier, healthier and more productive teams in 2017.