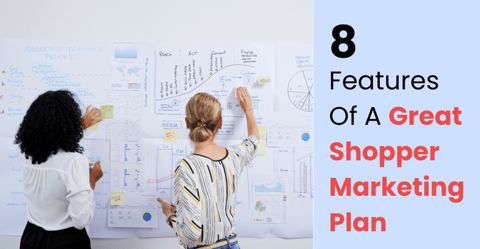 The discipline of CPG marketing has become more technical, complex, and dynamic than ever. Expectations for shopper marketing plans have also evolved. To prepare your team for competition in the omnichannel world of retail media, digitally empowered shoppers, blurred lines of ownership, and rampant silos, consider overhauling your marketing planning process, and creating a shopper marketing plan as a tangible output.
What does it take to build a great shopper marketing plan in 2023? Here are eight important features every modern shopper marketing team should aim to incorporate into their planning:
1. Integrated & Strategically Aligned
Many CPGs have an integrated marketing planning process in place that aligns various tactics and channels to create a unified and consistent message for a brand's target audience. The purpose of an integrated marketing plan is to maximize the effectiveness of marketing efforts by ensuring that all departments and agencies are working toward common goals. A great shopper marketing plan, therefore, should not be built in isolation. It should leverage both the brand's and the retail marketing themes, ideas, content, and assets. For example, if your brand is working on securing a celebrity chef endorsement, make sure that they include retail appearances and exclusive recipes that contain not only your brand but retail private brands, too. And if one of your top retail customers announces that they are going after the dinner meal occasion trip, make sure that your brand teams take that into account when briefing their creative agency to develop a new digital media campaign.
2. Timely
In the era where most marketing is digital and campaigns can be launched at short notice, it's tempting to push marketing planning to the last minute. However, shopper marketing must operate with the success at the physical shelf in mind since the majority of CPG sales still happen in-store. Even if most campaigns can be executed very quickly, incremental displays, in-store demonstrations, product plus-ups, and merchandising plans are still planned months in advance. Depending on the retail department and supply chain lengths, lead times can be as long as 12 months. This means that customer JBP meetings and shopper marketing planning usually start well before the integrated planning is kicked off in the CPG headquarters. Embrace the idea that shopper marketing will influence integrated brand planning, rather than the other way around, simply because you have to do it sooner.
3. Customer-specific
Even if you buy your digital, traditional, and in-store media in bulk on the national scale, planning all your investments and activities down to the retail customer is important for at least three reasons: 1) build customer-specific reports and calendars to leverage during your sales calls; 2) scrutinize your investments early to ensure compliance with Robinson-Patman Act; 3) actualize customer-specific spend for ROI measurement to determine what retailers can deliver the best incremental sales for your efforts.
4. Financially Aligned
Ongoing reporting to Finance can take a lot of marketers' time. It is because the way marketers plan is not the same way that finance does their reporting. To avoid re-packaging your plans for financial reporting, build plans with the reporting in mind. Collect the details that Finance cares about to make it easy for them to interpret your plans and tie them to the brand's P&L:
Proper mapping of shopper tactics to the company's general ledger accounts to appropriately categorize spend
Clear delineation between above-the-line (ATL) expenses like coupon redemption and below-the-line (BTL) (all other marketing/media expenses)
Funding sources for each program and tactic, if you have multiple funding streams coming to your team
Accurate tactic in-market dates for proper phasing of expenses.
5. Agile & Real-Time
Let's be honest, there is no such thing as a "planning season" in shopper marketing. Planning and re-planning run pretty much throughout the year. If your shopper marketing programs are co-developed with your retail customers (as they should be), constant changes are inevitable. If the idea of frequent replanning stresses you out, reconsider whether you want to be in shopper marketing. I would argue that if your shopper marketing plan doesn't constantly evolve due to ongoing feedback from your retail customers or take advantage of the latest shopper technologies, it is suboptimal. To make replanning easier, invest in user-friendly, cloud-based planning software. Arm your team with solid tools to make changes on the fly and keep their omnichannel plans current, rather than telling them to copy/paste/format one-off, static Excel or PowerPoint templates that are built to serve limited internal audiences.
6. Measurable
This is probably the least controversial or surprising item on the list. Measurement is the holy grail that the entire shopper marketing industry cares about very strongly. I wrote about marketers' premature obsession with measurement in the past. Very few organizations are set up well for sustainable post-program analytics. The most sophisticated and mature shopper marketing organizations realize a couple of important things: a) program KPIs have to be determined before the program is implemented; b) few KPIs are better than many; c) measurement without follow-up action is useless. Therefore, bake measurement into your planning process, severely limit the KPIs to avoid analysis paralysis, and mandate that the team iterates and tweaks future programs based on prior results.
7. Transparent
Shopper marketing plans should not be a well-kept secret or a black hole that absorbs dollars but never emits any signal. You and your team work hard and deserve to showcase your work. The shopper marketing plan is one of your major deliverables; therefore, make it visible, easily accessible, and interpretable. Ideally, your plans should be stored in the cloud where your agency and cross-functional partners can access them 24x7. Even better if they can run their own reports and query the system to get answers in self-serve mode instead of interrupting your team with ad-hoc requests for program updates and planning assumptions.
8. Experimental
Give your team permission to test and learn new things without going through seven rounds of approval. To ensure that the test budget is not misused, create "Test & Learn Guidelines" that outline general principles, such as the percentage of the overall budget that can be spent on marketing innovation, how to select opportunities and vendor partners, and how to document and share learnings with the rest of the team. Having permission to quickly say "yes" when a retail customer is soliciting early adopters for their new ideas can be a powerful tool to build relationships and get a seat at the retail customer's table.
How many of these features does your shopper marketing plan check off? Do you have other important features to suggest?
Are you looking to benchmark your company against CPG peers in terms of productivity, org design, process efficiency, or systems and data management? Hire us to complete a benchmarking audit and offer best-in-class recommendations for where to begin your digital transformation journey.
OTHER POSTS YOU MIGHT LIKE: