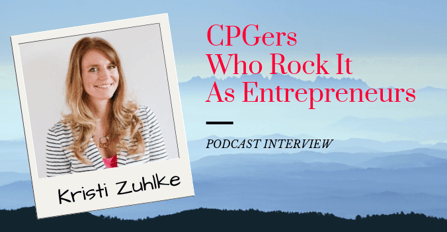 This podcast series has been in the works for a long time. In my five years long entrepreneurial journey, I met several people who became my inspiration, my mentors and simply good friends because we shared a life-defining common experience: taking a step into the unknown of entrepreneurship. Leaving a comfortable CPG job for the adventures of running your own company is both a very thrilling and utterly lonely endeavor. Having peer role models who were willing to be my sounding board helped me stay sane in the times of doubt.

The reason I feel this podcast series is important now more than ever is that I know many of you are considering a similar path. Our industry is in the constant state of change, so you can't count on job security anymore. On a bright side, starting your own business costs a fraction of what it used to just a decade ago. I highly recommend reading this fascinating IAB report about Direct-to-Consumer Business model where they show how the old CPG model is being disrupted by the smaller players.

Making physical products is just one way to own your destiny. Technology and software products can be just as rewarding to build and launch.

Our today's guest is a former P&G consumer research professional who started a tech company in order to solve the pain she felt first hand: easily finding raw survey data from past studies to quickly answer pressing business questions. Tune in for my interview with Kristi Zuhlke, CEO & Co-Founder of KnowlegeHound who helps clients unlock the value of their data and marketing research investments.

In this interview you will find out:
What experiences and conditions shaped her entrepreneurial mindset.
The kinds of mentors that really mattered to her professional and entrepreneurial growth.
The "Aha!" moment that led to starting her first tech company.
How she built her team and found her first clients.
Surprising things she learned about herself and the world outside of the corporate walls.
Her advice for aspiring entrepreneurs.
People who she admires and follows.
If you know of other former CPG professionals who leveraged their experience as a springboard t start a successful new venture, please let me know. I would love to meet and interview them.
Other Posts You May Like: